From Regional Support Manager to Franchise Owner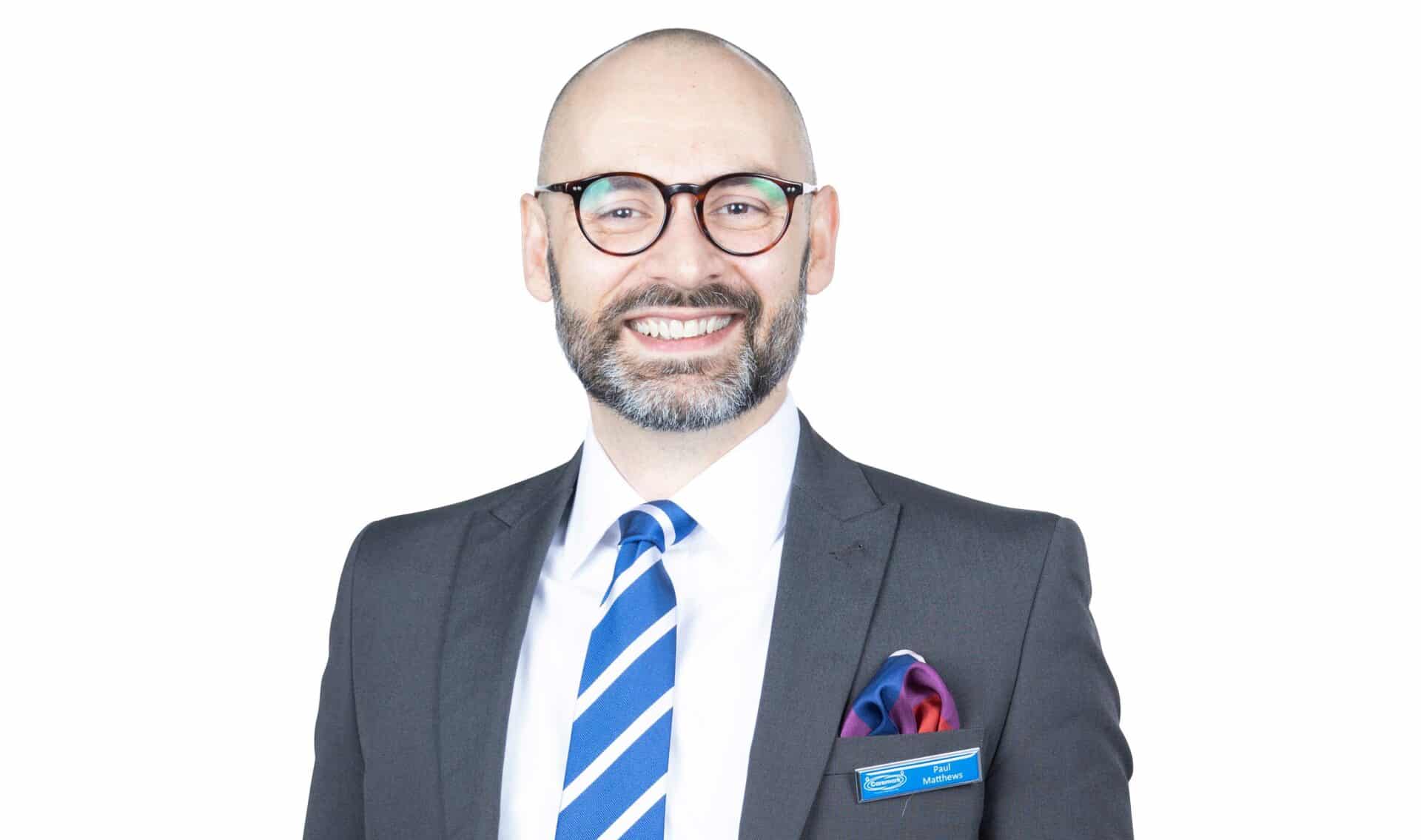 We sat down with Paul Harvey-Matthews, the new owner and director of Caremark Harrogate to learn about his big leap from Caremark Limited employee to franchise owner.
"I'm still pinching myself," begins Paul, "it was only a few months ago when I was at the Caremark conference in January, listening to the new and exciting plans for Caremark's path for 2022 and thinking what a bright future the brand had ahead of it. It was there that the idea of buying a franchise really took shape.
"I became quite emotional thinking about the exciting possibility of buying my own business," he said pensively, his mind rolling back to that moment.
Early beginnings
Paul's life with Caremark Limited began in July 2018 when he took up the post of Regional Support Manager (RSM) for a number of businesses in the north of England. His background in care and business development fitted well for his new role, as did his experience in supporting poor performers to grow and develop into profitable enterprises.
Paul continues: "Whilst I was waiting to be interviewed, I picked up Caremark's Culture booklet and read it. I was certainly impressed by Caremark's values and felt at once they were a good fit with my own. Although my background was care and care related, I knew nothing about franchising, so this job was a whole new world to me. It was certainly a big learning curve and very different to anything I had previously done.
Challenges and benefits
"As a regional support manager, it is all about the relationships you forge with your franchise owners. I had to learn which bit of myself I needed to use to engage effectively with the person sitting in front of me.
"At first, I didn't always get this right," he says smiling wryly, "and I had to negotiate a few thorny paths before I understood the delicate psychodynamics of different people and how they respond to being supported, guided, and nudged to grow their businesses.
The best bit of the job was building those positive, respectful relationships with my franchise owners and understanding how they ticked. As time went on, it became easier and easier to achieve those results because I had built up the respect of these people and got to know them.
"I also really loved working with the 'newbies'. It was great seeing new, inexperienced franchise owners go from being slightly terrified, green professionals to competent, confident and happy business owners as they gained experience and grew their care business."
Supporting the launch and growth of Julie Oomen's new business at Caremark Wakefield in 2020 was the point when he realised this could be his dream too.
Paul picks up the story: "The trigger came during my early days with Julie. We would speak several times in the day as I guided her, step by step through the start-up process. At first, there was lots of handholding and encouragement. Julie was hungry for knowledge, and she wanted every bit of information possible that was lodged in my brain!
"During one of our conversations, she turned to me and asked why I wasn't doing this myself? I'd never thought about it because I'd never considered going into franchising, and mistakenly thought I would need huge amounts of money to get started! Julie put me straight on that one and got me thinking.
"The next step in the process came when I had to visit Caremark Harrogate. The existing franchise owner was not a great fit for the network overall; he had a care service and a business which was going nowhere. My task was to gently lead him to sell the business and move on.
"By this point I had a good understanding of the strengths and weaknesses of Caremark Harrogate, and I could also see he had a good team there, but they were not being nurtured or led appropriately."
Paul pauses for a moment as he reflects on that pivotal moment.
"I stood back from the situation and thought, I could do this. I could take this business and turn it around. I had done it previously in another job role and loved it, so I thought, why not go for it?
"I was excited by the challenge and knew I would love benefiting both the customers and the staff.
"I was also impressed with the existing Harrogate management and care team. They were really dedicated and hard-working."
Making the leap
With Caremark Harrogate up for sale again, Paul knew he needed to move quickly. Confident that his decision to offer on Harrogate was a fantastic opportunity not to be missed, he also felt reassured by the level of knowledge and support he would be offered by his fellow professionals in the field-based team as well as from the franchise support centre.
"The RSMs and Quality Managers are amazing!" he said. "It's reassuring to know that I don't have to know everything or be good at everything because I can pull on their resources. It's the same for all our franchise owners – the level of support available to each business in our network is outstanding."
"So, this really was a case of 'right time, right place' for me. Knowing all the other franchise owners in my region and how supportive they are of each other is another bonus. I've grown to respect their achievements, knowledge, and experience and appreciate a ready-made peer group who will lift me up! I am really blessed with such a fantastic region, and you can't buy that."
Why Caremark?
"It was an easy decision for me really," he continues, "because I was impressed by Caremark from the word go; their culture, values, vision and mission statement all resonated strongly with me, plus the success of their network. So, I never bothered even considering another care provider.
"I still remember to this day some powerful words from our late CEO Kevin Lewis when I was going through my induction training alongside new franchise owners, shortly after I joined Caremark.
He said: "We know the Caremark model works; we have lots of successful businesses in the network. Whether your business is successful or not – well, that's up to you."
"He was right. I knew that the model worked but what totally convinced me of my decision to buy a Caremark franchise was the inspired marketing strategy and vision for the brand that was outlined at our Conference in January 2022. I knew I wanted to be part of this. We now have new, highly skilled directors in the senior management team, using their expertise and passion to drive the brand in an exciting upward path.
"It's worth noting too, the network's turnover increased during the most difficult economic period of 2020/21 and despite the last few years of economic instability, the business model has proven to be recession and even pandemic proof!
"I'm convinced that under the new and dynamic leadership of joint CEOs David Glover and Lisa Fyfe, Caremark is set to forge ahead in the world of care and franchising."
Buying a franchise
"Now is the best time to buy a Caremark franchise if you are looking to invest or have redundancy funds burning a hole in your pocket. I would certainly encourage anyone considering taking this step to just do it. Banks are keen to lend even now, and with interest rates at an affordable level and the care sector absolutely booming, it's worth taking that jump. There is an untapped market out there and excellent homecare is always going to be needed.
"Yes, it's hard work, but then anything that is worth doing is worth the effort and time. I'm so glad I was able to buy Harrogate as a re-sale. This has it's plus points – firstly I don't have to start from scratch and secondly, I have a fabulous team in place who are really committed to our joint vision. They're making my job so much easier, and I couldn't be happier with where I am now."
We also spoke to Paul's team who are all very excited about the journey ahead under new leadership. Care Manager Shelly Phillips said she couldn't be any happier working with Paul, "I've never met such a genuine, considerate, kind, open and structured person. His outlook is so refreshing, I'm excited for the future of Caremark Harrogate."
Vanessa Ho, Care Co-ordinator, is looking forward to learning more from Paul and working together to keep the company growing. Field Care Supervisor Rosie is an ex-employee of Caremark Harrogate who made the decision to leave her secure job at the NHS to come back and work for Paul because she believed in him and his commitment to the business and supporting his team.
Caring about your team
Staff recruitment and retention is never far from any franchise owner's thoughts and Paul too, as a new business owner has his own thoughts on this challenging topic.
"During my role as an RSM I got to meet many different care assistants in my region. What I noticed was that the most successful businesses with the best teams were also the businesses with the happiest, most productive staff. Why? Because each person in that business felt they were valued, respected, and had an important role to play.
"These are the things that really matter – not congratulatory vouchers or cards. My care team want me there working with them; they want my time, energy and attention and they want to feel that they are important to the business and have a worthwhile role to play. Without my amazing care assistants, I wouldn't have a business. I want them to come into work every day feeling happy and smiling. If I can create a work environment that fosters joy, then my team will take this positivity out into the community and share that with their customers and spread it amongst their family when they go home.
Being able to spill happiness into another's life is how we change the world, one day at a time, one person at a time, one smile at a time.
If I can achieve that, then I think I will be doing a good job."
Final thoughts
The last few weeks have certainly been hectic for Paul as he gets to grips with re-building his new business and consolidating his team. But despite the mountain of tasks to be completed, his enthusiasm and steely determination shine brightly.
Reflecting on his new adventure he said: "It's not just about owning your own business, that's exciting. But for me, this new venture is more about having a positive impact on my local community. Investing in local people for local people. That way, lives are uplifted, even transformed. And that's got to be worth working towards!"