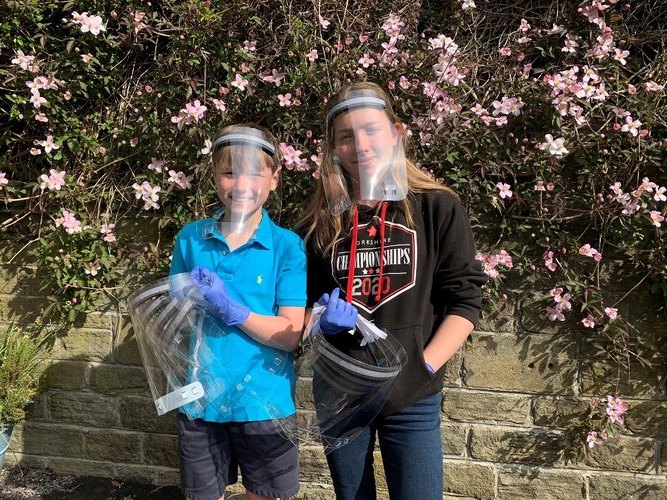 21 May 2020
Thomas & Ellie help Caremark (Kirklees) to 'face' down COVID-19.
Face shields built by two inspiring Huddersfield children have been donated for use by carers at Caremark (Kirklees) during the Covid-19 crisis.
Caremark (Kirklees) are the latest organisation to benefit from the kindness of Thomas and Ellie who have been putting together shields for staff working on the front line during the Coronavirus outbreak. The siblings, with the support of their parents Margie and Stephen, have also supplied NHS workers, GPs and people working in care homes.
It all started when following the start of the Covid-19 crisis, ten-year-old Thomas, who is in year 6 at Huddersfield Grammar School, began experimenting with the design of a face shield. Mum Margie then discovered a company on the south coast which had a pre-approved design for face shields and agreed to supply the components needed to put them together. Thomas, together with Ellie, aged 12, have been building the visors ever since and have even made their own tweak – switching to non-latex bands, after advice from Dad Stephen, who works at Huddersfield Royal Infirmary.
Caremark (Kirklees) has received their first batch of face shields, with Thomas and Ellie now busy making more. Managing Director Duncan Smith said: "The health, safety and wellbeing of our staff and customers is always paramount, but it's never been more important to us than during these difficult and challenging times. "We've been following Government guidance when it comes to delivering care in people's home and have taken added steps to protect our staff and customers, including ensuring we have appropriate PPE. We are incredibly grateful to Thomas and Ellie for providing us with extra face shields and we have taken them up on their kind offer to supply us with more. They are a credit to their community."
Margie said: "Thomas and Ellie had one thing in mind when they started this and that was to help keep people safe, so they are thrilled to have been able to help organisations like Caremark (Kirklees) who are working on the front-line delivering care and support."