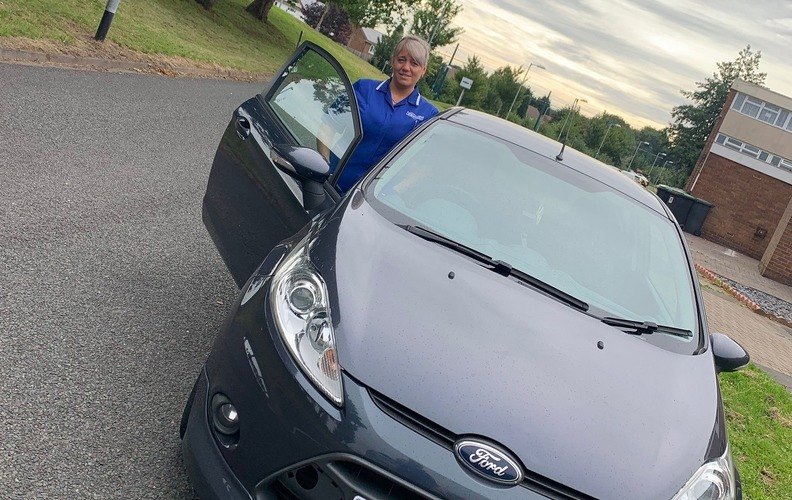 12 Jan 2021
Leisure boss comes to Care and Support Workers aid.
An in-home Care and Support Worker from Caremark (Broxtowe and Erewash) who was facing a bill of more than £1,000 after her car broke down has spoken of her shock after discovering that a well-known local businessman had picked up the entire repair bill.
When Care and Support Worker Katrina Pickering's car broke down and she was facing a repair bill of over £1,000.
Katrina's husband Kevin works for Jem Leisure, which is owned by the Nottingham-based Mellors Group. When the Managing Director of the Mellors Group, James Mellor Snr, heard about the breakdown and knowing how vital a car was for Key Worker during the Covid-19 pandemic, he insisted on paying for the repairs, also, when Katrina's neighbour Lisa saw her car being towed away, in an act of further kindness she loaned Katrina her car so she could continue working.
Katrina said: "I can't do my job without a car because I need to be able to travel to people's homes to provide care, so when I realised how much it was going to cost to repair, I didn't know what to do".
"The final bill was going to be £1,250 which is a month's wage for me, so when James offered to pay the full amount, completely out of the blue, I was overwhelmed".
"Then, when Lisa offered me her car, well, I was lost for words. Their generosity is amazing, and I can't thank them enough".
"It meant I didn't lose any work and more importantly, the people who rely on me for care were not inconvenienced."
Katrina has only been in care for a year, having previously worked in the leisure industry.
She says: "My grandmother had to go into residential care and this was an upsetting time for everyone, so it gave me the inspiration to become a Carer, so I could help other people remain in their homes as long as possible.
"It's the best thing I have ever done. It's something I was destined to do and that I have found my right place here."
Raj Solanki, Managing Director of Caremark (Broxtowe and Erewash), said: "We have been overwhelmed by the generosity of local people during the COVID-19 pandemic, but this in particular was very special and I would personally like to thank James and Lisa for their kind gestures."
Become a respected keyworker today at your local Caremark office, to find out more about carving out a career in social care, working for the leading provider, please
click here
.