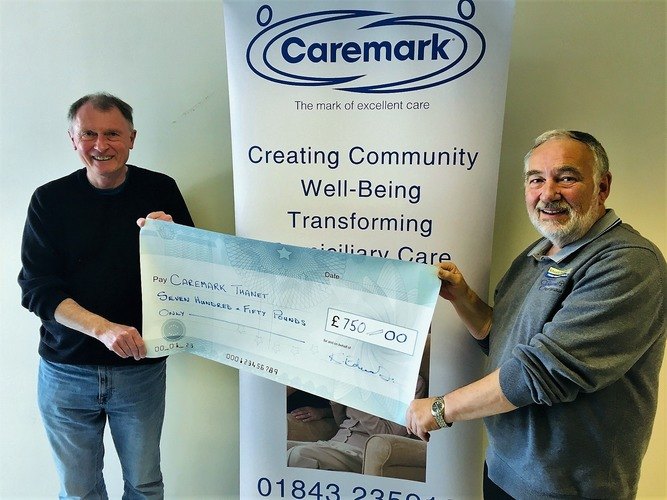 09 Feb 2021
Community partner raises money for in-home Care provider, Caremark (Thanet)
Starting in August and following on from the 'lockdown' restrictions, Edwards Embroidery and Trews Workwear of Manston, introduced an initiative to put something back into the community following the three months of lockdown restrictions.
When the announcement from the government came out that face coverings were compulsory in certain places, such as shops and public transport, Keith Edwards of Edwards Embroidery and Trevor Kenney of Trews Workwear, decided to run an offer to supply face coverings free of charge to local businesses and organisations in exchange for a voluntary donation.
All funds raised were to go to Caremark (Thanet), who Keith and Trevor were extremely impressed with throughout this period. In particular, how they had looked after not only their clients in Thanet, but also their loyal team of Care & Support Workers, who had gone above and beyond their job descriptions to ensure that the vulnerable in their community were safe and well looked after.
At the end of the promotion period, Keith and Trevor were able to present a cheque to Caremark (Thanet) Managing Director Garry Costain (pictured receiving the cheque) for the sum of £750 which will be used by Caremark (Thanet) to thank the families of their Care & Support Workers for the excellent work that they have undertaken.
Keith and Trevor thanked local businesses who took advantage of this offer, they said "no matter how small or large the donation was, without the support of the community this would not have been possible".
Another great example of a Caremark office enjoying the benefits of engaging with businesses within their local community.
To find out more about the services on offer for you or a loved one, please
click here
to find your local office.