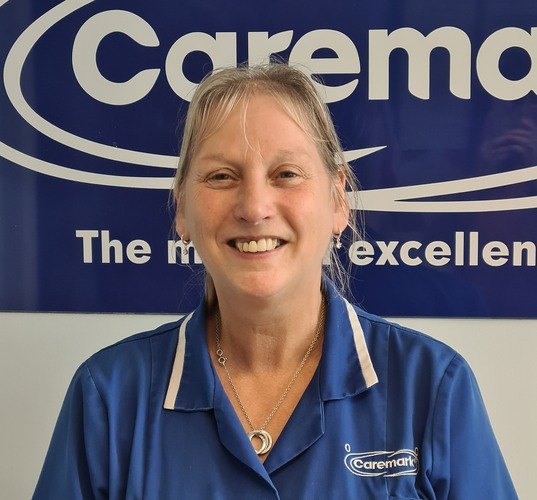 01 Oct 2021
Caremark finalist in 2021 Leaders in Care Awards.
Mary Yardley from Caremark (Mid Sussex & Crawley) has been named as a finalist in the category of : 'Frontline Carer of the Year.'
Here is Mary's story at Caremark and how this exceptional person was chosen as a finalist for these prestigious awards by an industry panel.
Mary has worked as a Care & Support Worker for Caremark (Mid Sussex & Crawley) since 2008. Then, sadly, in 2019, Mary was diagnosed with breast cancer and received intense rounds of cancer treatment. Despite this, she continued providing care in people's homes, working as hard as ever, every day.
As a side effect of the treatment, when Mary started losing her hair, she was concerned that her clients may get upset, so she decided to wear beautiful scarfs and hats. Mary was happy that this eased the situation and said it made her clients smile every time she visited.
As well as working full time for Caremark and receiving cancer treatment, Mary looks after a child with disabilities and has done for many years. She also makes calls in her own time to regular clients and always delivers shopping or medication if needed. If a client has no appetite, Mary will cook them their favourite meal and deliver it to them in her own time to try and entice them to eat. Mary was also appointed an end-of-life carer for a client by their power of attorney. She subsequently moved in with the client and cared for them for eight days, ensuring they were never alone and died with dignity.
Caremark (Mid Sussex & Crawley) Registered Care Manager/Director Sarah-Louise White had this to say: "Myself and Sue (Managing Director) are absolutely thrilled and over the moon that Mary is a finalist for this award. Mary thoroughly deserves recognition and praise for her compassion and kindness towards others, when suffering so much herself. Mary is a true inspiration for us all and has no idea, just how wonderful she is."
The winner will be announced at a gala ceremony taking place on the first night of the Care Show, Wednesday 13th October, at the National Conference Centre.
Mary had this to say on this recognition: "Thank you so much for the nomination, I feel very blessed to be able to do a job I love and work with such lovely people."
There are over 7000 Caremark Care & Support Workers across the nation providing the highest quality of care and support to their local communities. For details on careers in your area, please
click here
.