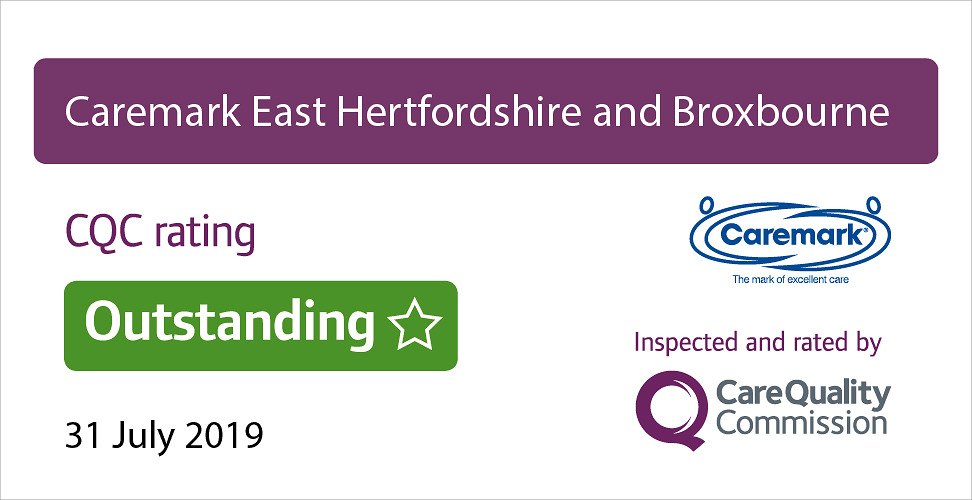 16 Aug 2019
Caremark (East Hertfordshire & Broxbourne) achieves Outstanding rating in first inspection
Receiving an 'Outstanding' rating from the Care Quality Commission is a remarkable. Receiving such a rating after the very first inspection is spectacular! Yet, this is what Sareet Shah, Priya Desai and their team at Caremark (East Hertfordshire & Broxbourne) have achieved after being inspected by the Care Quality Commission for the first time.
With only 3% of home care providers rated outstanding in England, this rating is the result of hard work, innovation and vision. Caremark (East Hertfordshire & Broxbourne) opened their doors in May 2018 and have worked hard to deliver high quality care to the local community since then.
The CQC inspector reported that "
people's lives were changed for the better because of the care they received from the service.
" The office was also highly praised by its clients, with comments including: "The care given has been absolutely first-class", and "We have nothing but praise. They are fantastic people."
Sareet and Priya have developed a fantastic team working towards one goal: delivering exceptional care to the local community. The pair have built a
culture of trust
, valuing their staff and encouraging loyalty. Sareet explained his approach by saying: "If I build that trust with them, they will trust me." Staff members said the support they received from Sareet and Priya made them feel part of a "family" and "loyal" to Caremark.
Sareet and Priya's team goes beyond by
playing an active role in the community
. One of the initiatives taken by the office includes a recently launched befriending service that enables clients to sign up for a weekly 15-minute telephone chat with a care worker. The service helps reduce loneliness in the community and the team have plans to open it to other people living in the area.
They also partnered with a local college to promote careers in social care and offer opportunities for students to expand on their studies. In one instance, students were involved in developing a new electronic records management system.
Commenting on his 'Outstanding' rating, Sareet said: "We ensured that the ethos of our business resonated through all levels, from office staff to carers, to clients and their families. We promote transparency and working together, a sense that we are all on the same team and part of something much bigger.
"Our own experience with a relative receiving a poor standard of care means that we are extremely diligent in giving our staff as much training as they need and ensuring that they are the right people for the job.
"Some care providers hire people, give them a bit of training, have them shadow for one day and then send them out in the community. We let our new recruits shadow for as long as needed, two weeks or even a month, before they go out to provide care alone. They feel better supported and get a sense of teamwork."