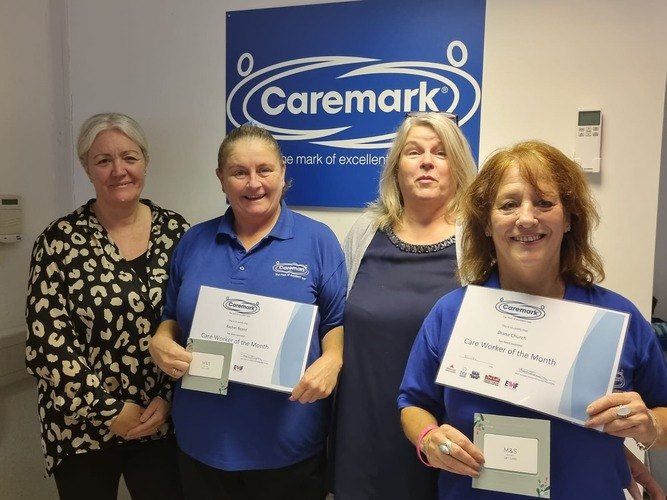 15 Nov 2021
The honour is shared for October's Caremark carer of the month award.
Rachel Beard & Diana Church from Caremark (Hillingdon) both commended by ambulance crew and hospital Doctor for quick thinking.
Pictured from left to right: Field Care Supervisor, Sharon, joint Care & Support Worker of the month, Rachel, Care Manager, Yvonne and joint Care & Support Worker of the month, Diana.
Managing Director Abhay Shah nominated both potentially lifesaving Care & Support Workers for their fast decisive actions which led to praise for next of kin and medical staff. Abhay said of their work on this particular day: "Both Rachel and Diana provide care to a client, Ruth in Hillingdon. On one recent visit to Ruth's home, they noticed a change her facial expression and from the through training Caremark provide, they recognised this as a sign of a potential stroke."
Abhay went onto say: "Without hesitation, Rachel called the emergency services, which was absolutely the right thing to do, as both the Ambulance Crew and the Doctor from the Hospital commended her quick actions, as they enabled them to provide medical treatment to Ruth as she had indeed as suspected, suffered a stroke."
Once Ruth was back home, Rachel, Diana and the rest of the care team provided her with plenty of support and reassurance whilst also ensuring that they kept her next of kin updated with everything they needed to know. Abhay added: "We received wonderful feedback from Ruth's next of kin to say how happy they were with the communication from Rachel and Diana." Given the next of kin does not live locally, he felt assured that Ruth was in capable and good hands.
The next of kin, Mike said: "My thanks to Caremark, and particularly Rachel and Diana, for looking after Ruth so well through her stroke and subsequent hospitalisation and return home. Keeping us all informed and advised was a great help."
Rachel and Diana both worked effectively with the rest of the team to ensure that Ruth received appropriate support and that the other team members were aware of what signs to look out for in case she suffered another stroke.
Abhay went on to expand on further reasons for his nomination: "Rachel and Diana go above and beyond when required. They are both passionate about providing the best quality of care and support to our clients. We are very proud of them both. They have exemplary attendance records and are rarely off work and they help out with covering extra shifts whenever they can."
Both Rachel and Diana will receive a certificate from Caremark Head Office, along with a £50 Love2Shop voucher and be automatically shortlisted for the Care & Support Worker of the Year Award, announced at the Caremark Awards Ceremony in January.
If you too are the kind of empathic person who enjoys caring for those who need it,
then find out more about a career with Caremark on our jobs page.