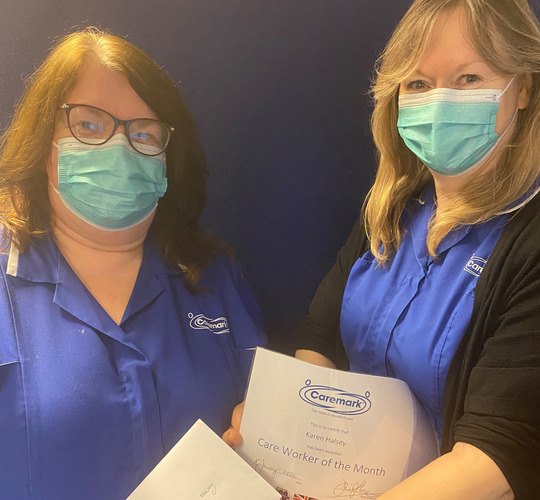 12 Jan 2022
December Care & Support worker of the month.
Caremark (North Herts & Stevenage) Care & Support worker Karen Halsey wins the award for going above and beyond for her clients and colleagues.
Karen was nominated by Care Manager Claire Evans who describes her as a hard working reliable member of the team. A well valued, conscientious member of staff who goes above and beyond for her clients and colleagues.
Claire also went on to say: "Karen approaches her work with a positive attitude which clients find welcoming & reassuring. Karen often picks up extra shifts to support her colleagues who are held up elsewhere, she arrives on time to her calls and ready to work.
Karen promotes a person centred approach through her care ensuring that her communication style is adapted for her clients who have differing communication needs.
A reliable staff member that knows her clients well, Karen is always willing to help new members of staff get to know clients and their preferences. Karen will check that her colleagues who walk have transport to/from their calls, ensuring they get home safely at the end of their shift. Karen has built a good relationship with the office staff and continues to maintain a good level of partnership working."
If a job in care sounds appealing, there are a number of roles across the network that may be right for you. Visit our jobs page to find out more about a career with Caremark.