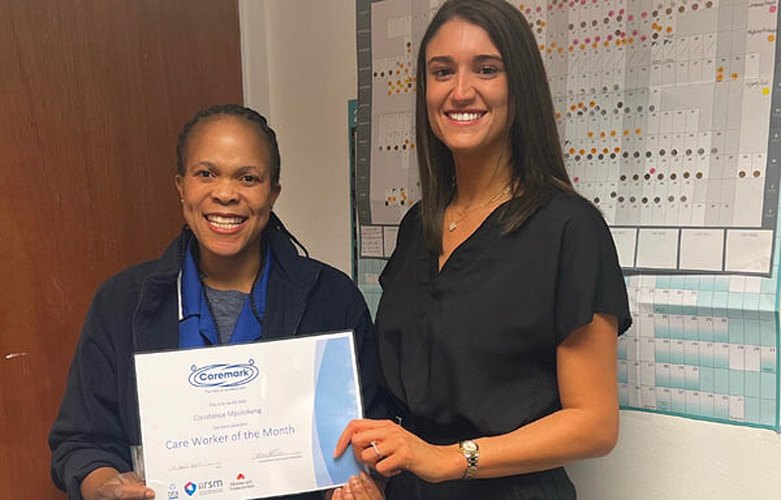 22 Apr 2022
Constance Mpolokeng our winner for March.
The Care & Support Worker from Caremark (Hatfield & Welwyn) receives the monthly accolade for her professionalism, kindness and eagerness to learn.
Constance Mpolokeng was nominated by Care Manager Robyn Sparks for her passion and determination to learn all there is to know about homecare. She has built friendly professional relationships with both carers and clients and is willing to take on all advise from senior care workers and is building her knowledge everyday.
Constance came to the UK on a sponsored Visa, not knowing anyone here she initially struggled to find her feet. However Constance showed determination, patience and compassion to all service users on a daily basis and has made huge improvement to her confidence which shows in her care abilities. The office are daily receiving compliments on Constance's attitude to learning from the carers and the clients are also noticing her confidence levels building on every shift.
Constance communicates with the office team on a daily basis, any concerns that she has are reported straight away. Constance takes on all advise from senior members of staff and ensure she uses these new skills in her day to day care providing. She will always seek support if she is unsure of anything and takes all advice on board.
Always patient with all clients, Constance allows them to make their own choices about the care they receive. Her enthusiasm has been acknowledged by staff and clients who complement her daily. Her positive attitude and high spirits rub off on other staff and clients, the regular feedback from both clients and staff is that Constance brightens their day with her cheer.
Constance is very much liked by her clients because she is a great listener and always assists in any way that she can. Constance works well with all members of the team and care workers are very complimentary about her willingness to help and support them.
If like Constance you want to help your community and make a difference to the lives of our clients,
visit our jobs page to find out more about a career with Caremark
.