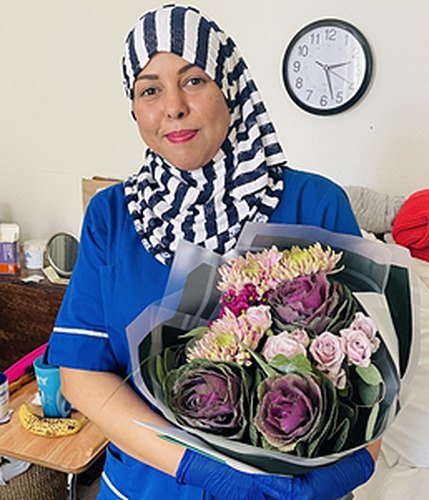 29 Oct 2021
Caremark's Care & Support Worker of the month for September.
Jubilance as Fatoom Salam from Caremark (Hammersmith and Fulham) celebrates being named September's Caremark Carer of the month.
Business owner Jignisha Shatilal explains why she nominated Fatoom for the Care Worker of the month award for September: "There are so many examples of best practice from Fatoom, her dedication to her clients is only exceeded by her enthusiasm. She is never late and succeeds in her role, day in day out, providing the very highest standard of care to the community of Hammersmith & Fulham."
Jignisha goes on to explain how the service users families are exceptionally happy with her visits to their loved ones homes: "The families always give positive feedback". Expanding the reasons why, she goes onto say: "She is simply super productive and always shows continuity in the care she delivers. She always communicates as effectively with her clients as she does with the office team, she is always happy to provide cover for her colleagues and her clients describe her as patient and caring."
Congratulations to Fatoom, who will be entered into the Caremark '
Care Worker Hall of Fame
', and receives a certificate from the Caremark Head Office, accompanied with a £50 love2shop voucher and is also automatically entered into the final of the 'Carer of the Year' award, which is announced at the Caremark conference in January 2022, to which we wish her and all the monthly award winners luck.
There are over seven thousand Caremark Care & Support Workers like Fatoom, providing care to those who need it, up and down the Country. If you would like to find out more about a truly rewarding career with Caremark, like Fatoom, please
click here
to find out more about jobs in your area, there are vacancies now.