Together again! Franchisees rate Caremark's 15th annual conference as top notch.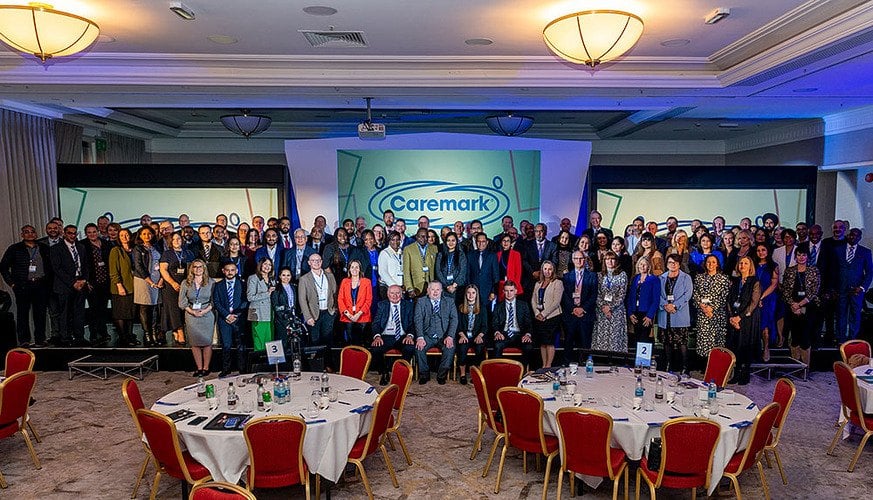 After a challenging 12 months, the Caremark network were reunited at our annual conference for a packed agenda and the opportunity to network and share ideas.
With restrictions and separation due to the pandemic behind them, Caremark franchisees were treated to a fantastic reunion at the 15th annual conference held at the prestigious Forest of Arden Marriott Hotel & Country Club.
One hundred and eleven of Caremark's hard-working business owners gathered from across its UK territories to enjoy a stimulating day of presentations from top speakers, including Gillian Keegan, Minister of State for Care and Mental Health, Jane Townson, CEO of the Homecare Association, Ellis Watson, keynote speaker and Leigh Davis, a world leading expert on attracting and retaining top carer talent.
This year's gathering was particularly poignant. It was the first annual conference and network gathering since Kevin Lewis, Caremark's founder, had unexpectedly passed away last year.
Following the opening speech by Joint CEO David Glover, Shweta Mahendru, Caremark's HR & Project Team Leader, gave a moving and fitting tribute to the late Kevin Lewis whose absence from the event was notable.
The full programme offered franchisees valuable and inspirational content from leading speakers across the business and care world, with plenty of take aways and food for thought.
Reflecting on the event, David Glover said: "The feedback from franchisees was excellent and they really enjoyed getting back and meeting face to face. Being able to interact with one another and see the head office team again was important.
"There was a real sense of connection between us all and a mutual feeling of being up for the challenges facing us, particularly in respect of carer recruitment and retention."
There was plenty of praise from the franchisees too: "Fantastic conference! Full of great messages and the feeling of a being part of a network was definitely back. Came away feeling really optimistic about the future. Well done everyone at Caremark!"
With new leaders at the helm and a refined vision for the growth and direction of the company, Caremark has an exciting twelve months ahead.
David Glover explained: "I felt the franchisees took great comfort in hearing that the business was moving forwards and that it had a clear vision and strategy for the future.
"They were excited by the plans we shared to elevate the brand through a planned national advertising and marketing strategy, steered by our new Marketing Director.
"All in all, with the great comments we have had from the network, I think this year has been our best conference yet."