Thankyou Thursday!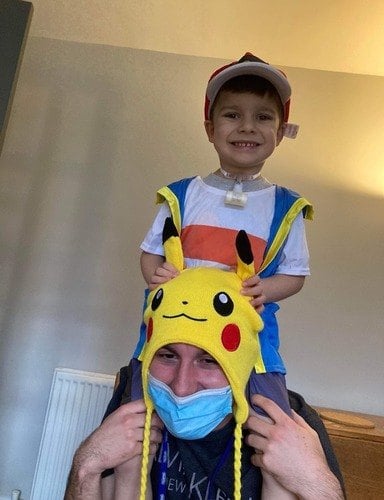 Today, we would like to show all our wonderful customers, their families, our staff members, professionals and our commissioners the amazing relationship between one of our valued customers, Harry, and one of his regular consistent staff members, Declan.

Harry is just 4 years old, he has been supported by Caremark since he was just over 18 months old, and has been a delight since the beginning. Our support workers, along with the help of his Mum & Dad of course, have helped Harry to learn and develop in his most important years by providing consistent one to one support. Harry is now in full-time school and our support workers provide 1:1 support throughout the day at school to manage his medical health needs- keeping his tracheostomy safe.
'I love supporting Harry' – Declan
The relationship that Declan and Harry have built in such a short space of time is amazing, during the last 4 months they have got on like a house on fire, Declan loves supporting Harry- and Harry loves it when Declan is on shift with him. Harry has even bought Declan a small token of appreciation to say thank you for being a wonderful support worker- a Pikachu Hat. The picture is sooooooo cute!
Thank you to Declan for being such a star with Harry, and thank you to Harry for being patient and letting Declan get to know you!
It's amazing what consistent, regular support workers can do for our customer's – which is what we aim for every single day, our support workers love to get to know their customers and build up a great working relationship and help them to achieve their goals, which is just what Declan and Harry have done together. As well as Declan, Harry is also supported by Mandy, who has worked with him since 2019- Mandy has witnessed Harry grow and develop into the little boy that he is now and is also responsible for a lot of his learning, so also a Huge thank you to Mandy too.