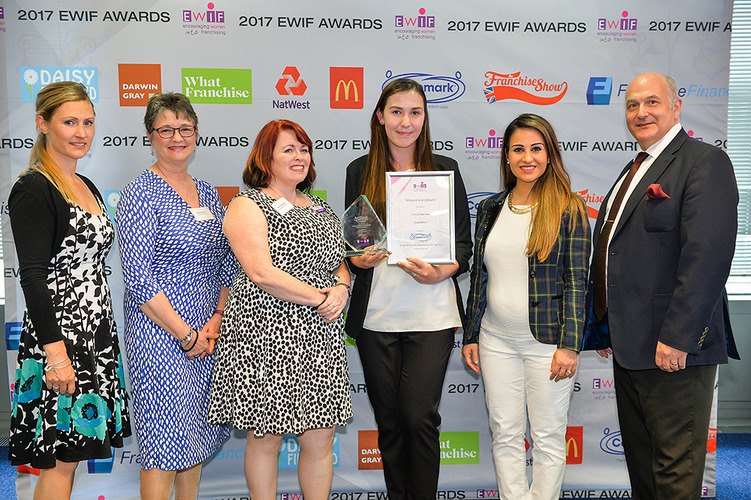 19 May 2017
Caremark joins the celebrations of the NatWest (EWIF) Encouraging Women into Franchising awards
For the second year running Caremark Limited was proud to sponsor an award in the Encouraging Women into Franchising awards event held earlier this week.
Finalists, sponsors and guests from across the country and the industry gathered in London to celebrate the successes of finalists and winners.
Caremark Limited's Managing Director, Anne O'Rourke presented the award for Young Woman in Franchising 2017 to Emily Norman, 22, from diddi dance.
PR & Marketing Executive for Caremark, Mary Wardell commented: "This year was even better than last, with yet more inspirational young women flying the flag for franchising in all sorts of different businesses. The venue was also excellent and enabled everyone to network, meet up with familiar contacts and make new ones."
Guest speaker, Melody Hossaini, founder of InspirEngage, shared her experiences of being a business woman, an inspiration for more women to step into the world of business ownership.
"Today was my first experience of being at an EWIF Awards Ceremony, it's such a pleasure to be here. I think it's so important for women to get involved in franchising. When women find themselves in situations where they want a bit more flexibility and perhaps want to make passion their career, they can look to the franchising model to help them become more economically active. I've had some really interesting conversations today with both franchisees and franchisors about their models and why they are passionate about getting more women into franchising. It's been absolutely fascinating and such a pleasure to see the great work that EWIF does," explained Melody.
The 2017 NatWest Encouraging Women into Franchising (EWIF) Award winners are:
New Woman Franchisor – Rachel Fay, Little Learners
New Woman Franchisee – Tracy Cooke, Magical Maths
Woman Franchisor – Jo Stone & Tracy Townend, Puddle Ducks
Woman Franchisee – Claire Slorach, Toni & Guy
Woman Franchise Employee – Sarah Mayhew, Magical Maths
Young Woman in Franchising – Emily Norman, diddi dance
Service Provider – Vicki Mitman, Birketts
Inspirational Woman – Fiona Williams, Bluebird Care
Overall Woman in Franchising Winner (chosen from the 8 winners above) - Claire Slorach, Toni & Guy
"Every year the NatWest EWIF awards get bigger and bigger and I can't believe we've just finished our seventh Awards! EWIF membership is growing year-on-year, and each year sees record numbers of entries. This demonstrates how women are coming forward to shout about their achievements. For me, this means the EWIF cause is working its magic! I look forward to the awards every year and I'm always sad when it's over. It's lovely to see so many from within the franchise industry joining together to celebrate the winners' and finalists' achievements." explains Clive Sawyer, CEO of EWIF and MD of Business Options.
"It was a great event and inspiring, as always. I know from first-hand experience how much work goes into arranging such an event so well done and thank you to all involved," said Anne O'Rourke, Managing Director, Caremark Limited.
Franchising is continuing to attract talented and entrepreneurial women, with the EWIF awards testimony to the exceptional drive and abilities of an increasing number of women, keen to make their mark in business and create their own successful enterprise.