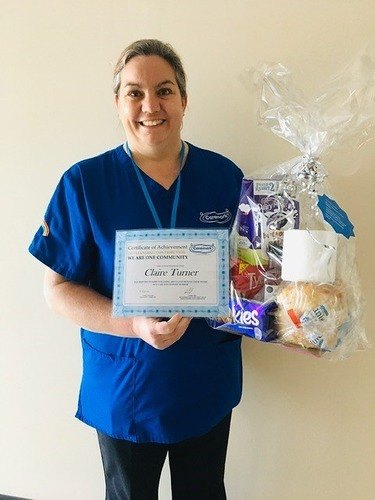 16 Apr 2020
We are one community, We will get through this together
Caremark (Thanet) and a story about community engagement.
Community engagement
This is just one example of some of the remarkable community engagement work Caremark (Thanet) conduct and how it has resulted in the recruitment of a great new care and support worker.
Their RSM Ben Gardiner is inspired by how they connect with their staff and how they show their appreciation for all the hard work they do. Their Facebook page and their LinkedIn pages continuously promote their business and show their appreciation for their staff.
Claire Turner is the Managing Director and Editor of a magazine Caremark (Thanet) have often had advertorials included in. Recently Claire saw a recruitment post on LinkedIn and rang the Caremark (Thanet) main office for more information. An interview was conducted over the phone, which clearly went well as Claire went on to induction training on 23rd March and started working for Caremark on 28th March. In this short space of time she has already made a huge impact out in the field.
Her Field Care Supervisor Coral Shubert had this to say:
"Claire is a very positive force in care and has demonstrated natural flair and commitment in her short time with Caremark so far. During her induction training she was very keen and supportive of her peers, saying she learned something new every day. In these difficult times Claire has been an asset to the team, stepping in at the pinch points and covering many hours to ensure our customers get what they need; no mean feat when she has six children at home as well – the youngest being just 18 months old."
Claire had this to say:
"At this time of great difficulty for small businesses I knew mine was no different and working with and relying on small businesses as we do I knew I need to look somewhere for alternative income during this time in order to keep a roof over my children's heads and food on the table.
Due to the fact that our business has worked with Caremark before, writing articles on them and getting to know about them quite well, I came across Jemma's call for new team members and it jumped straight out at me. The ethos and values that Caremark have and stand for resonate so well with me and I knew that the standard of care offered to their customers would be high"
I have loved every minute of it and although it's been very busy and very full on, I have really enjoyed working for Caremark, you never know they might let me stay after this crisis is all over"
Survival Packs:
This afternoon Claire was invited to the main office to receive her essential Caremark Thanet survival pack which consists of tea, milk, biscuits, Easter egg, bottle of wine and of course toilet roll for going above and beyond her duties as a care and support worker. We are so proud of her dedication and support at such a crucial time.
She went on to say:
"Thank you once again for the fabulous hamper, it is very kind and generous of you and very much appreciated"