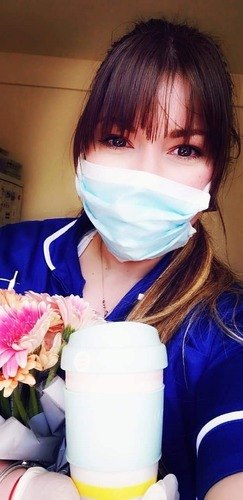 12 May 2020
Thank you, Waitrose.
Care and support worker Monica from Caremark (Worcester & Malvern Hills) was surprised and happy to be greeted recently with clapping, flowers and a mug when visiting her local Waitrose after one of her shifts.
Monica had this to say "Thank you Waitrose for your beautiful presents, I was so shocked when I finished my last call and went to buy something from Waitrose, besides the fact that they let me go in first they surprised me with a mug, beautiful flowers and applause for doing my job but they also deserve the same gratitude so I applauded them for what they do, thank you, thank you, thank you!!!!!!"
How fantastic that Waitrose recognised the fantastic work being carried out by Caremark Care and Support Workers locally and up and down the country during the Coronavirus epidemic.
Our friendly services enable you to remain in the comfort and familiarity of your own home. You will receive regular social care visits and services to suit your personal needs.
Caremark are proud of our dedicated home care teams, supporting such a wide range of individuals. We provide home care services to adults and older people, those with physical disabilities, learning disabilities, as well as children and young people. We can also provide respite for carers of loved ones in need of a break. In fact, we cater to anyone who would benefit from help with things like:
• Help with personal care like washing & dressing
• Shopping & meal preparation
• Medication assistance and organising
• Support with daily routines
• Night care
• 24/7 Live-In Care
• Respite care services
• Companionship
• Socialising and leisure activities
• Dementia Care and Alzheimer's Care
• Accessing the community
• Gaining or regaining independence
• End of life care
• Light domestic tasks
As well as a host of other services that make life easier and help to maintain health or speed up recovery.
We understand that when the time comes where someone needs help in the home, it can be daunting.
Caremark will help address any worries and answer questions or any concerns you may have.
We always consider someone's unique needs and visit at times that suit their lifestyle. This can range from a short morning visit once a week, to 24/7 live in care. Either way, we provide flexible home care to accommodate everyone's unique requirements.