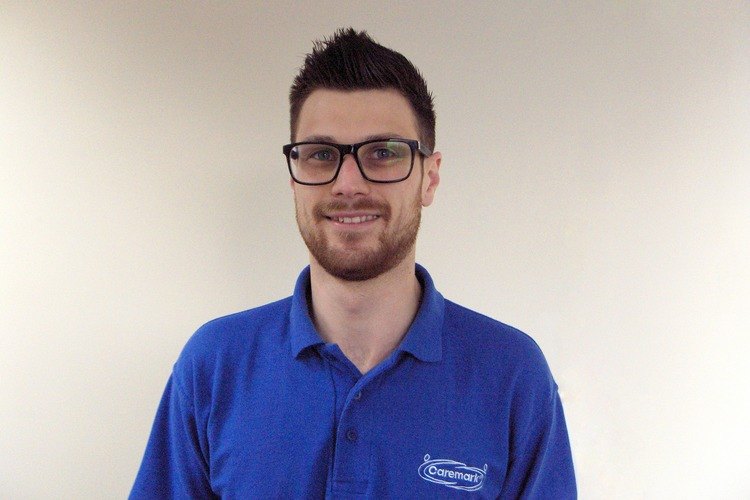 07 Feb 2017
Male Care Worker shortage? Only 15.3% of workforce are men
With men making up just 15.3% of the care workforce, we ask male Care Worker Matthew Carter what made him choose a career in the home care industry.
A recent article on
homecare.co.uk
revealed that a small minority of the home care workforce are male, and the problems this can cause when providing excellent quality care. We spoke to Matthew Carter who has been working for the
Caremark (Pulborough)
team for over 4 years, about what it is that he enjoys about his work as a care worker.
How did you get into social care?
"I worked in the motor industry before getting into home care. I lost my job and wanted a change in career having found the motor industry was not right for me. I knew the care manager at the time and he offered me a job working as a care worker."
Is it something you always wanted to do?
"I had never thought about home care as a career. However I had always wanted to volunteer with a charity or organisation that supported people in community, so I think I was very lucky to get a job in something that I enjoy so much."
Did you ever have doubts about working in the care sector due to the workforce being predominantly female?
"I didn't have any doubts about working in a sector that's predominantly female as I had worked in previous environments before and enjoyed those."
Why do you think there are so few men working in social care?
"I am unsure why there are so few men working in social care as it is such a fulfilling and satisfying job and you feel like you are making a difference to people's lives everyday; it really gives you a good feeling inside."
Do you work with many other male colleagues?
"I work with a couple of other male colleagues (there aren't many of us) and they are great guys. I really enjoy working with them and I have made some great friends."
Have any of your clients ever expressed a preference for having a male or female care worker? If so, did they say why or do you know why?
"I have never experienced any of my clients asking for a preference however I can imagine that some maybe feel more comfortable in certain company as this can be quite an intimate and personal job."
Do you think it is important for there to be male care workers? Why/why not?
"I think it's very important for there to be male care workers as it gives some variety to the job. I also believe that male company is important for some of our male clients that we look after. Males may feel more comfortable talking about certain subjects with another male."
What advice would you give to someone, particularly a man, considering a career in social care?
"Go for it! It's a fantastic fulfilling career that gives you the best feeling everyday because you really feel that you are making a difference to people's lives.
"I love my job I have made some great friends and have met some wonderful and interesting people along the way. I have also learnt so much about how different everybody's lives are and the different walks of life people come from.
"The job isn't easy but it's worth the early starts and late finishes knowing that you have made someone's life that isn't that easy anymore a little easier, and it's not just the clients - it's their families too.
"This job is fantastic and I couldn't recommend it highly enough. I believe it's one of the best jobs anyone can do."
If you would like a career in care, browse our Care Worker jobs