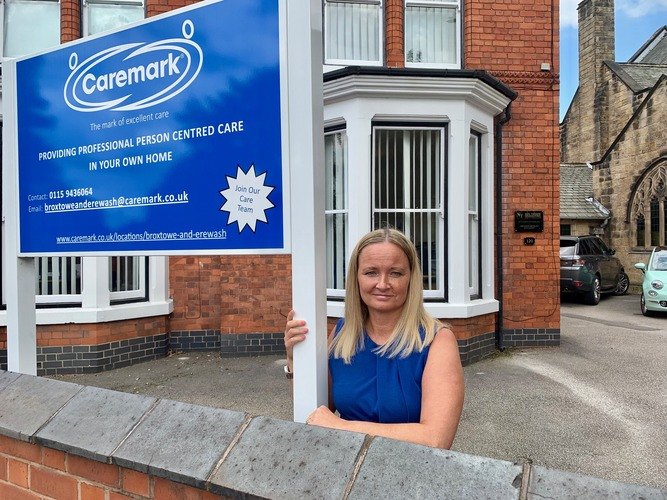 02 Sep 2019
Leading is caring
When it comes to managing a home care service, Louise Harrison, Registered Care Manager at Caremark (Broxtowe & Erewash), cares not only for the clients her team supports, but also for the team members themselves. Louise knows that being present for her team and valuing the work they do is key to constantly delivering the highest level of care.
Louise's decision to start a career in care originated 16 years ago when her nan became sick. Despite the best efforts of her family, she eventually had to go into residential care. "She went downhill as soon as she left her own home and was not the same person when she went into a care home. We were very close, so I applied to become a care assistant on the basis I wanted better for other people who needed care."
Louise joined another home care company and quickly progressed up the ranks, eventually taking on the role of manager and introducing new initiatives such as recruiting more 'walking' care workers.
Seeking a new challenge, she joined Caremark (Broxtowe and Erewash) as Registered Care Manager in April 2018 and has already made a great impact, helping the office to grow its hours and team in the right way.
She adds: "It's all about looking at the quality before quantity so we will always recruit first and ensure new staff receive high quality training and are the right fit for us, before we then look to take on extra work."
Louise doesn't mind taking her work home or even on holiday with her.
She explains: "It's simply because I care about our staff and clients. So, for example, I remember once being at home on call during very bad snow and wind and worrying about five young care workers who were having to walk between people's homes.
"I then transferred money from my own personal account to the care workers' accounts so they could get a taxi between some calls and then get a taxi home, I asked all of them to send me a text to let me know they were home safe.
"On another occasion, I discovered a client had never been on holiday before, so I took him on holiday with my family to Skegness.
"I also invited another client with learning disabilities to spend Christmas Day at my house. Seeing him with a pint in his hand and smile on his face meant everything.
"And my sister and I also take Christmas dinners to people who live on their own."
If a career in social care appeals to you, we have hundreds of care job vacancies available across the UK. Find a care job near you
here
.