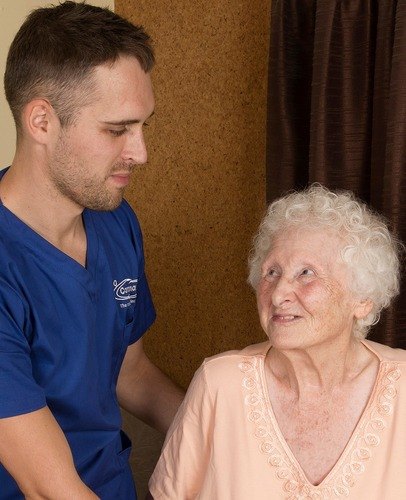 09 Oct 2020
In-home Care and Support Workers who feel they have the best Job in the world.
The care and support staff at Caremark (Winchester and Eastleigh) love their in-home care roles that let them make the lives of their clients brighter every time they see them.
There is nothing quite as satisfying as going home after a day's work knowing you have done something important and special. Their work has inspired Caremark (Winchester and Eastleigh) to write about exactly why so many people they employ love their jobs.
They had this to say:
"There are bad days, of course, every job comes with bad days, but the good days make this the best job in the world. I have seen my fair share of difficulties, but the smiles are priceless, as is knowing I make a real difference to someone's life. That's amazing."
"There is nothing better than seeing someone smile, knowing that you helped cause it. As another says, they learn something new every day. And every day is different, which helps you grow as a person as well as professionally. Caring teaches you about yourself."
They went onto say "Working in care allows alleviation of some conceptions about older people. Working with them soon makes you less judgemental. Older folk are just as smart as any other age group, just as funny, just as entertaining, kind, warm, interesting and generous. Their age means they have all sorts of amazing stories to tell and best of all they have the time to share those stories and pearls of wisdom, as well as listen to your own stories. It is an intimate role and it means you inevitably develop a close relationship with the people you support."
"I love my job. When someone I care for says thank you or tells me they will look forward to seeing me next time, I feel this lovely inner glow and it stays with me all day."
"It's great to realise that retirement doesn't have to mark the end of a useful life. Our Care and Support Workers are often reminded that new experiences and opportunities are around the corner no matter what age you are."
"It's easy, when you're young and fit, to take life for granted. Simple things like the ability to get out of bed on your own and dress yourself, go for a walk, cook a meal and generally get about the house are so important to a person's dignity and self-respect, something Caremark (Winchester and Eastleigh) Care and Support Workers are very aware of and appreciate every day. Being able to help others achieve these pleasurable basics of life is so rewarding."
"Seeing people at their most vulnerable and providing hope, reassurance, a simple shoulder to cry on, is an amazing feeling."
It is a challenging role helping people who would otherwise struggle, but that is something Caremark (Winchester and Eastleigh) Care and Support Workers actively enjoy. So many other jobs involve doing the same thing every day, day after day, without even thinking about it. This role demands a lot more of you and is so varied, which makes it so much more satisfying.
Being a qualified carer means so much more than simply offering practical assistance. Sometimes, as a carer, you are all they have, which means you are the only connection to life outside the home. You might find you become almost family, playing the role of trusted confidant. It is an amazing feeling being genuinely needed, genuinely empowering someone.
"When you make a fellow human being's day by doing something that may seem relatively insignificant but is vitally important to their lives, it is all worth it."
"The knowledge that I can make someone's day special by helping them, and put a smile on their face, means such a lot. I absolutely love this job."
If you would like to get more out of life with a Care and Support role at Caremark (Winchester and Eastleigh) or any other of our network of service providers across the country, then
click here
.