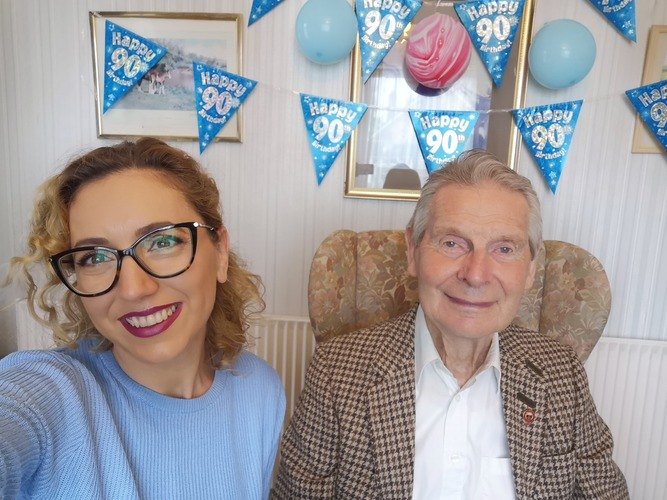 04 Jun 2020
Home, not alone.
An insight into life under lockdown for a vulnerable person with Live-in Care and Support.
Rodica originally joined elderly couple Roy and Sylvia as a Live-in Care and Support Worker from Caremark (Chiltern and Three Rivers) in May 2018, in their home, located in Chalfont St Peter, Bucks, she left but re-joined Roy shortly after the passing of Roy's wife Sylvia and just before the lockdown. Their daughter Helen explained "Rodica offered sympathy and understanding to help get Dad through this obviously difficult time"
Helen went onto say how "lucky" she and her sister Rhoda feel to have had Rodica there, especially during the pandemic "She cooks interesting meals and goes the extra mile with kindness and care". Helen went on to mention some challenging days due to her father's dementia "Rodica is so understanding and kind, instilling a sense of calmness"
Rodica said "Games are commonplace, with Jenga being a firm favorite" She enthused "it is important to keep Roy stimulated through activity including crafts and singing." The singing is due to Roy previously enjoying being part of a choir, Rodica makes sure he does not miss out by finding music he enjoys singing along with at home. When questioned what song he particularly enjoys, he sang "Always eat when you are hungry", a heart-warming moment.
A recent highpoint for the locked-down pair was Roy's 90th birthday. The family were delighted with the pictures and video Rodica took. They both stay active the rest of the time as well, she said "we exercise every day as Roy has a lovely garden that we walk in and also he exercises with weights". Rodica previously enjoyed running on her breaks, but since the Coronavirus outbreak, she currently will only leave the house to run if it's raining so as to be extra careful as to not bring COVID-19 back into the house.
Rodica brings joy to Roy's life, offering companionship, support, kindness and understanding. Alleviating loneliness, this resulted in an overall Improvement in mood since coming under her care. This means the family can rest assured he is in good hands and being well looked after through the period of social isolation and beyond.
Helen went onto say how she wants to recommend Rodica for "Care and Support Worker of the Year" at Caremark (Chiltern and Three Rivers) and how glad she was not have had her father in a care home, able to remain in his own home during the Coronavirus pandemic, with all his own possessions around him, a familiar environment with 1-2-1 care. She added that Rodica is always willing to go the extra mile to make him feel "safe, happy, well looked after" and how grateful the family are for this.
They clearly enjoy each other's company, in a friendship that transcends age, Roy said he feels "very lucky indeed" to have her with him and Rodica went onto say "I believe in kindness. I think it is very important in my job to be kind; this is how I have been raised. My mother always taught me to be kind to each other, to respect others and to smile.