Did you know that most computers have options built into them to make it easier for people with low or no vision to use them.
Click for information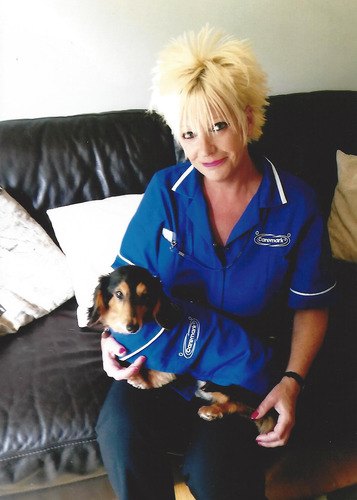 28 May 2014
Furry friend joins Caremark (Winchester & Eastleigh) team
Mr Pickles has been accompanying carer Anne May on her home care visits to dog loving clients
It has often been observed that animals can help greatly when patients are ill. Medical records going back 150 years have shown that they can provide comfort, support, have a calming influence and generally boost patients' wellbeing. It is no surprise, therefore, that dogs and cats are increasingly regular guests at some hospitals and nursing homes.
Local home care provider
Caremark (Winchester & Eastleigh)
has its own dog visitor in the form of Mr Pickles! He's a lovely long haired dachshund owned by Anne May, one of Caremark's most experienced carers. Mr Pickles' first visit with Anne was to meet Pam one afternoon so that Pam's husband might have a break.
Pam loves dogs and was rarely without one from the day she was born so when she had a stroke 8 years ago which stopped her walking, she had to learn to live with that and the harsh fact that her doggie days were over. Mr Pickles is so well behaved and interested in everything. He's a good companion and settles down closely with them so that Pam can make a fuss of him. She looks forward to his visits and always feels better for having seen him again.