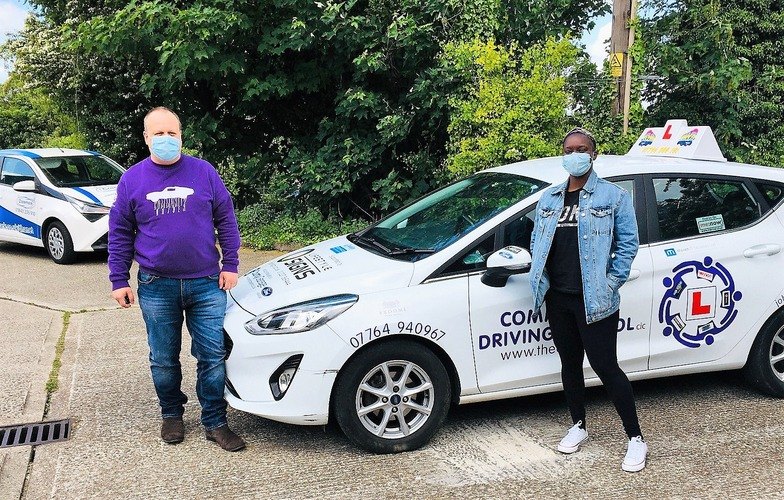 24 Jun 2020
Driving on together as a community.
A local MP gets behind the community providing driving lessons to Care & Support workers at Caremark (Thanet)
To better enable Caremark (Thanet) Care & Support workers, local community driving school, aptly named, The Community Driving School has very generously offered to teach those who cannot drive to learn with them, free of charge. Bowled over by this generous offer Caremark (Thanet) decided it was only right to contribute £10 per lesson.
This has come about from Caremark (Thanet) Managing Director Garry Costain and Community Driving School CEO John Nicholson networking through a local Business Group. A great testament to the ongoing community works at Caremark (Thanet) and community businesses coming together in these unprecedented times.
Care and Support worker Yannique said she was "absolutely buzzing" and so excited to be learning to drive to be able to better serve the vulnerable in her community.
Pete Simpson, Treasurer of Thanet Premier Business Group had this to say "As a group of local businesses, Thanet Premier Business Group have always supported each other in every way that we can, which in turn helps the Community, by keeping the local economy strong, that support is even more important now, with everything that is going on. We decided that we, in turn as a group, will do our bit in helping with this, by helping with the costs by paying for the fuel"
Jemma Clayton, Director of Business Development and Marketing at Caremark (Thanet, Dover and Canterbury) said "We want to thank all involved in this fantastic initiative, including Jenny Sandford at Sandford Hodges for giving up her free time to put risk assessments and COVID-19 procedures in place to allow John Nicholson Community Driving School CIC to offer free driving lessons to some of our care and support workers. Thanks from Caremark (Thanet, Dover and Canterbury)".
Garry Costain MD of Caremark (Thanet) also said "By supplying these driving lessons to a number of carers who work for Caremark (Thanet) it will enable these hard working carers to go out and help the local people in our community and give them the care, help and assistance they desperately need"
Sir Roger James Gale Member of Parliament for North Thanet in Kent has endorsed this and confirmed that social distancing guidance is relaxed for these important keyworkers to get on the road and better serve their community "driving lessons for key workers are in order – with or without a test date – and that test dates will be arranged as a priority for key workers"
It is so great to see another fantastic community initiative paying dividends for Caremark (Thanet).