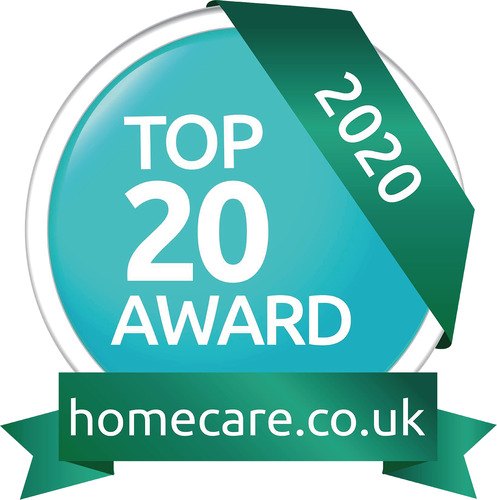 18 Jun 2020
Caremark offices rated in the top 20 home care providers by clients again.
For the sixth year in a row, Caremark offices across the country have featured in the Top 20 Home Care Awards organised by Homecare.co.uk.
A huge congratulations for these offices who have been rated in the top 20 in their respective regions due to the high quality care they provide and the subsequent reviews clients and their families leave on the care service they received, helping others choose which care provider is best on homecare.co.uk.
Every year, the Homecare.co.uk awards highlight the most recommended in-home care providers.
In the 2020 awards, seven Caremark offices were rated in the Top 20, they are all listed below accompanied by a typical review for each office:
Caremark (Harrow)
Review from N P (Daughter of Client)
"My mother has used Caremark (Harrow) for the last few years. She is happy with her carers who are wonderful in looking after her. If she is happy then I am happy because it means less stress for me. The office staff and supervisors are excellent and provide a very efficient service. I wouldn't hesitate in recommending Caremark."
Caremark (Hillingdon)
Review from N S (Daughter of Client)
"Very approachable management. Professional, lovely and very caring carers. Keen to learn and develop skills to help my mum. Excellent timekeeping. We are very happy with Caremark."
Caremark (Dacorum & St Albans)
Review from Michael D (Son of Client)
"Very happy with the service. Very caring and supportive to my Mum and the rest of the family. Couldn't be happier."
Caremark (Plymouth)

Review from P W (Husband of Client)
"Really helpful in all aspects. Service provider excellent. Two carers we have had, 2 days, 3 days, 2 days, have been excellent."
Caremark (Weymouth & West Dorset)
Review from Sue A (Daughter of Client)
"This amazing group of dedicated carers started to look after my 93-year-old dad over one and a half years ago. When he died last August, the same group continued to care for my mum, who is also in her nineties. They are efficient, reliable, kind and compassionate, and both dad and mum have been treated with dignity. Both management and carers keep me regularly updated and they have been so helpful and flexible with timings if I cannot personally get mum to an appointment. To put it in a nutshell, mum said to me yesterday, 'They care' ... and indeed, they do."
Caremark (Chiltern & Three Rivers)
Review from Pnnkaj V (Client)
"Care, comfort and cordiality is the hallmark of Caremark. Service with a smile and sincerity is the synonym of Caremark. Dedication, diligence and dignity is the testimonial of Caremark. Peace of mind and bliss of the heart is the commitment of Caremark. Meeting as a client, treating as a guest and being a friend is the integrity of Caremark."
Caremark (Thanet)
Review from Lin W (Daughter of Client)
"My father was finding difficulty in keeping on top of general housework. We were recommended to Caremark after an initial appointment, he started receiving help every week from a lovely young lady. Nothing was too much trouble. She got into a routine and built up a good rapport with my father. Living quite a distance away, it gave me peace of mind that there was an extra pair of eyes looking out for him. The company would ring if she noticed anything amiss, such as medication a little bit low, or he was in a low mood. He had the same lady every week, I timed his home shopping for her visits, and she put the shopping away for him, even making sure he had eaten before she left."
Caremark offices all over the UK have a positive impact on people's well-being in their community. They are proud to provide care that improves people's lives, for more information and to find your local Caremark office
click here