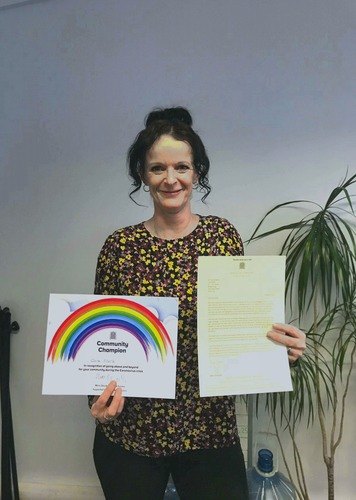 12 Apr 2021
Caremark (Mid Sussex & Crawley) named 'Covid Heroes'
The in-home care provider was awarded a Covid Heroes certificate for their efforts during the pandemic by Mims Davis, the Member of Parliament for Mid Sussex.
The in-home care provider has worked tirelessly to keep clients and Care and Support Workers safe during the Coronavirus Pandemic.
Caremark (Mid Sussex & Crawley) Care Manager Tanya Carter had this to say: "We are absolutely delighted for the team to be recognised as Covid heroes."
With the global pandemic taking precedence over pretty much everything during the last year, this is recognition of these homecare heroes working on the frontline unwaveringly delivering the highest standards of Care & Support to the vulnerable throughout the communities of Mid Sussex and Crawley, while most of us were locked safely away in our homes.
Mimms Davies wrote in her letter to Tayna: "Care providers were at the front of the fight. Keeping both your clients and your team safe was a huge challenge. To many of your clients you were the only contact that they had during the day and I was advised that many carers worked over their allotted time to be able to provide much needed company to the people they were caring for, also thinking of different way to keep spirits up. I am aware that your fight continues and ask that you contact me if ever I can be of assistance.
It has been both incredibly humbling and heartening to see people and communities coming together to help and support others when assistance was needed. I am comforted and reassured to know that Mid Sussex is full of the most wonderful and caring people."
High praise indeed for the dedicated Care Team who are all bowled over by this recognition of their efforts for their local MP.
A Caremark spokesman said: "It is great to see this recognition from a Member of Parliament to one of our in-home care providers, of which there are over 100 across the country, all still working tirelessly to provide the highest quality of care to the vulnerable in their communities."
To find out more about the array of care and support services available at Caremark, then please
click here
.