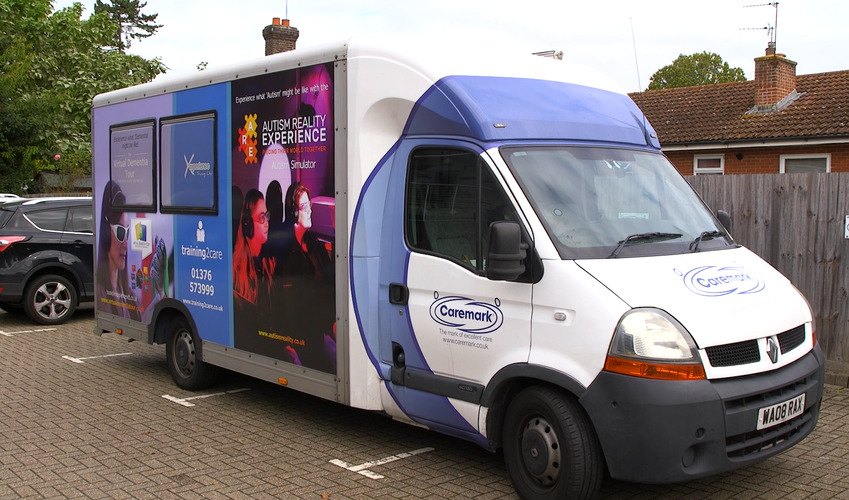 26 Sep 2019
Caremark leads innovation in dementia care with sensory training
Dementia affects approximately 850,000 people in the UK and costs the UK £26 billion a year. This is only set to increase as over 1 million people are predicted to be living with dementia by 2025. With such staggering figures, the provision of high quality, compassionate dementia care by organisations with the appropriate skills and understanding of how this condition impacts people's lives is more important than ever.
During an engaging and inclusive community dementia awareness day held at Caremark's flagship office in Pulborough earlier this month, the public and health and social care professionals had a glimpse into what living with dementia may look and feel like. Linking with this September's World Alzheimer's Month, the event was organised and funded by Caremark and was attended by staff members and families, as well as key dignitaries from the Care Quality Commission, the United Kingdom Homecare Association (UKHCA), the Alzheimer's Society and West Sussex County Council.
The attendees had the opportunity to complete the Virtual Dementia Tour from Training2Care, in a unique training vehicle sponsored by Caremark. The delegates experienced an immersive sensory experience comparable to dementia. The Tour is now being rolled out to the Caremark network as part of care staff training to improve dementia awareness and standards of dementia care across the UK.
Commenting on the tour, Patricia Arculus, County Councillor at West Sussex County Council said: "My mom had dementia and actually died of dementia a few years ago, so it's something I feel very strongly about. When I heard about the virtual training course, I thought it was something I wanted to experience.
"It was very disorientating, you felt extremely vulnerable. You couldn't see properly; you couldn't hear properly. It was quite frightening to think that that's what someone would be living with all the time. We want the person with dementia to actually get the best quality of life that they can, and I think this really indicated how we can do that."
Caremark aims to improve dementia care not only by improving care staff's understanding of how dementia impacts their clients through sensory training, but also by helping those living with dementia socialise and remain part of their community. This is the goal of PatchCare®, Caremark's new and innovative way of delivering care at home to reduce loneliness and social isolation and improve people's well-being and create a valuable sense of purpose.
PatchCare® has already been recognised for the invaluable benefits it offers. Piloted at Caremark (Mid Sussex & Crawley) and now being rolled out to other Caremark offices, this new model contributed towards the office's 'Outstanding' rating following an inspection with the Care Quality Commission (CQC). It will also feature within the CQC's soon to be published annual State of Care report 2018-2019 as a key model of innovative practice across England.
The importance of fighting loneliness by setting up socialising opportunities for the older generation is increasingly recognised by national and local governments alike. Attending Caremark's dementia awareness day, local neighbour wardens Carol Bonniface and Vanessa Green are a prime example of this change. Funded by the local council, the pair help combat loneliness and connect local residents with other services where appropriate.
Emmie Baker, National PatchCare® Development Manager at Caremark, commented: "It was fantastic to see so many faces at our dementia awareness day. The virtual tour was a resounding success, but it was also lovely to see people looking round our office and sharing their own personal stories relating to dementia.
"I'd like to thank everyone who came, plus Training2Care's instructor who worked extremely hard to deliver a meaningful experience."