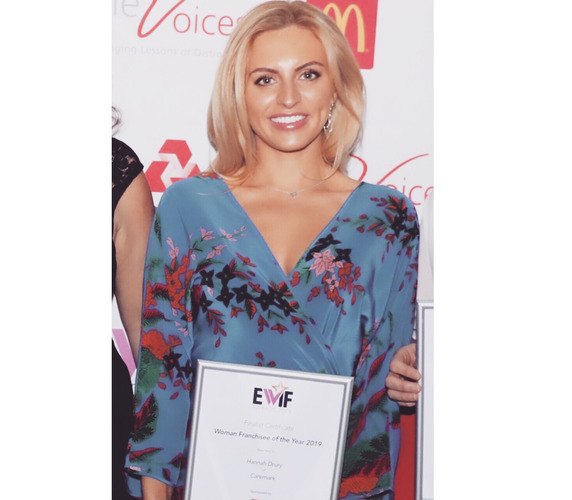 15 May 2019
Caremark franchisee wins fifth national business award for running exemplary home care operation
It's been an incredibly successful three-and-a-half year spell for our Caremark (Sutton) and Caremark (Epsom & Ewell, Banstead & Reigate) franchisee, Hannah Drury, who has scooped her fifth national business award and second top award at the NatWest Encouraging Women into Franchising (EWIF) awards earlier this month.
Hannah, an inspiring businesswoman and mother-of-two, has been named Young Woman in Franchising of the Year – a well-deserved recognition of her efforts to develop a home care business that puts people first.
"A year ago I'd been recognised for the rate at which I was growing the company and for my tremendous success, despite my age and the fact I'm a single mum," she added.
"This year I was awarded for very different reasons.
"I've worked hard to expand the business whilst maintaining the impeccable standard of care we provide for our original group of clients.
"Winning the award just goes to show that success isn't always about phenomenal achievements which set you apart from your peers, sometimes it's about running an ethical business and taking care of what matters.
The NatWest EWIF Awards seek to recognise and celebrate women working in franchising who have made significant contributions to the industry.
The annual awards took place at the Royal Bank of Scotland's headquarters in London, with a guest list including other female franchisees, their employees and associates.
"I was shortlisted in a category with such phenomenal female entrepreneurs," she said. "So winning the award for the second time has been a real highlight of my career.
"Female entrepreneurs contribute so much to the British economy, so I'm always very proud to support organisations who are flying the flag for women in business.
"I'm very appreciative to the incredible staff I work with at our offices in Sutton. Without their unwavering support I wouldn't have won the award."
"I've learnt so much in the past year and I'm so proud of how far I've come."