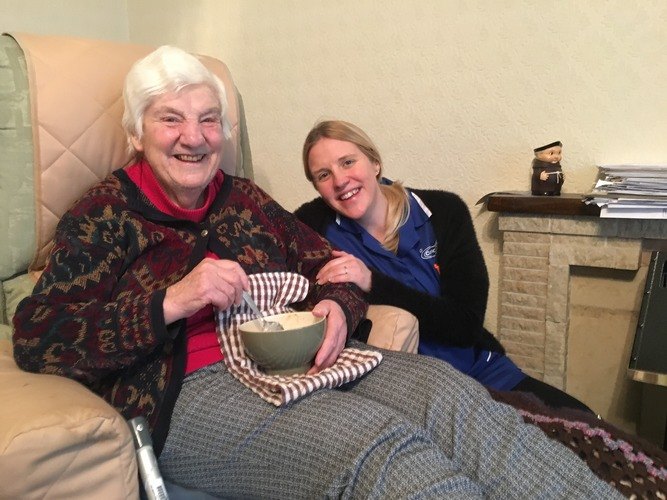 26 Apr 2019
An award-winning care worker shares her vision of good care
A woman who gave up a high-powered management role to look after people in their own homes has won an award from her company, Caremark (Cheltenham and Tewkesbury).
Laura Dunne, 31, has only been a care worker for a year but has already won the hearts of the people she cares for and was the overwhelming choice of the management team at (Cheltenham and Tewkesbury).
For some people, caring comes naturally and this is certainly true for Laura.
So what is the key to delivering really great care?
Laura believes the secret to being a good care worker lies in getting to know each person you look after.
She says: "I ensure I know something about each client before I go to see them for the first time.
"You have to remember that they are effectively letting strangers into their home, so you need to gain their confidence and you do this by getting to know what they like or don't like.
"This can be as simple as knowing what sort of music they like, or how they prefer their tea. It may not seem much, but it can mean everything to them.
"At the end of the day, if I have left someone with a smile on their face after I have been in their home, then that's enough for me."
Before joining Caremark, Laura had a high-powered, and often stressful job, working as a manager in the logistics industry looking after a well-known national brand, responsible for six team leaders and, ultimately, a further 45 members of staff.
Laura and her partner John decided they both needed to make some serious life-changing decisions, so in Laura's words, "we decided to start again".
Laura says: "It was a big change coming from my former role into something where I had no previous experience.
"I had heard stories about what hard work it was, but I came from a job which was very stressful and demanding, so I was ready for this.
"However, while it can be demanding, it's also very rewarding and I can't see myself doing anything else now."
Caremark (Cheltenham and Tewkesbury) Managing Director Michael Folkes says: "Laura had never worked in care before, however it was evident very early that she had found her calling, showing a natural and dedicated approach to the role from the outset.
"Clients have consistently reported outstanding levels of care and they feel safe and well looked after in her company. She not only understands duty of care but lives by it.
"Laura pushes for change to improve outcomes and is a true example of what care is all about. We are very proud to say she is part of the Caremark team."