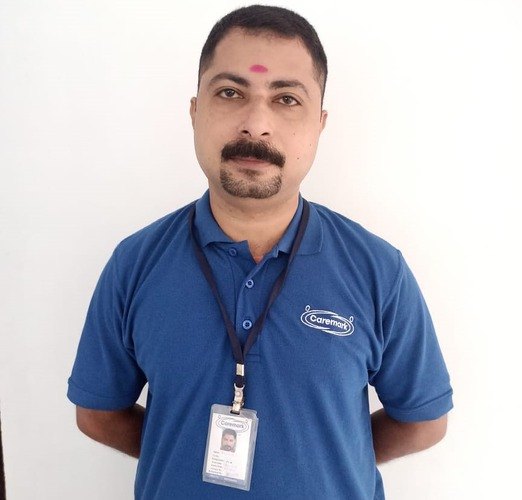 02 Sep 2021
A Covid care story.
From Caremark's office in India.
Greg Kuriakose from our office in India is in the middle of the major Covid outbreak, sweeping across the entire nation and had this to tell us: "At Caremark we always believe that our major strength is our Care & Support Workers. We have a great number of care staff who have been with us for a long duration."
He went onto say: "Rajeev S Kumar is one who has been with us for a long time. He has been one of the best Care & Support Workers we have and has been with us for almost 4 years now."
Greg recollected a recent call to the office where a daughter was desperately requesting care for her Father who was leaving Hospital and unable to travel due to restrictions around Covid-19: "Without any hesitation we allocated Mr Rajeev to the client."
Our Field Care Supervisor introduced Mr Rajeev to the client: The client was suffering from a severe Liver condition. The Doctors had done all they could for him and released him from their care: "No sooner had the client settled in he started showing symptoms of Coronavirus. Following a test, the client was confirmed as Covid-19 positive."
Rajeev, aware that the client's Daughter was away and unable to care for her Father and the client's spouse was also elderly, he informed the Field Care Supervisor that he wanted to continue to provide the care the client needed.
A couple of days later the client's condition worsened and he sadly passed away. It was at this point that Rajeev realised that he started to show symptoms of Covid-19 and he could not return to his home with his vulnerable parents.
Greg went onto say: "Our Field Care Supervisor managed to get Rajeev into a Government run 'first line treatment centre and after a couple of weeks of rest and medication Rajeev was relieved to receive a negative test result for Covid-19 and was overjoyed to be able to return home to his parents."
Once fully recovered, Greg hopes for his 'Covid hero' to return to Caremark as soon as possible.
The client's daughter could not thank Rajeev and Caremark enough for all the care and support at this very difficult time.