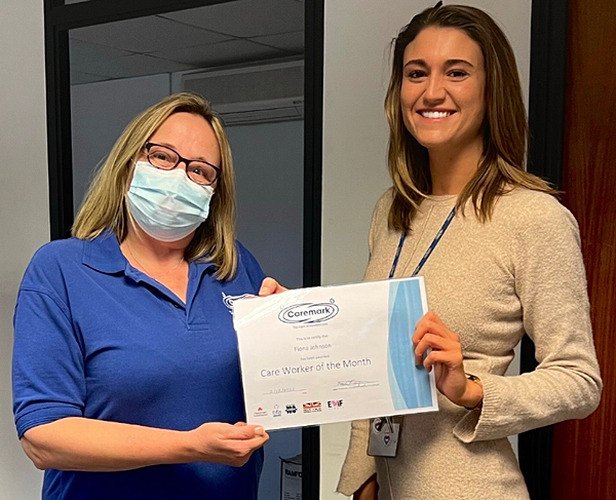 20 Dec 2021
November's winner of Carer of the month.
Fiona Johnson from Caremark (Welwyn & Hatfield) wins the award for exceptional communication skills with clients who have dementia.
Care Manager Robyn Sparks, who nominated Fiona, has seen many examples of best practice and compliance with the Caremark system from Fiona and had this to say on her diligent Care & Support Worker: "She works 40+ hours for Caremark (Welwyn & Hatfield), within those hours she comes across some extremely challenging packages of care.
Fiona without fail deals with every situation professionally and strives to provide the highest standard of care. We receive daily praise from clients and family about how she has dealt with these hard tasks. Fiona is highly skilled in dementia care and can tackle challenges that others may not.
Family and other carers regularly say they do not know what they would do without her. More recently Fiona was involved in a professionals meeting with one of our clients with a complex condition. Fiona spoke with the social workers present and was able to assist in keeping this lady cared for in her own home.
Fiona has worked throughout the Covid19 Pandemic and has not pulled out from any calls; she communicates with the office daily regarding her clients and any information we need to improve their care. She constantly communicates with other carers and office staff to assist and care for clients and has built amazing relations with all members of staff throughout the time with Caremark (Welwyn & Hatfield).
We receive compliments daily about Fiona from clients and especially family members. As already mentioned, many of Fiona's clients have complex dementia needs and families state that they would be at a loss without her there.
She encourages independence continuously, while assuring all her clients are safe. Despite memory loss from many of her clients, they always remember her on her calls as she strives to create a lasting impression, communicating with these clients in such a way that she gets the best out of them. Every client is always so happy and thrilled to see her and she brings a smile to their faces.
This is a Care & Support Worker who always goes the extra mile and expertly delivers professional, person-centred care. Caring is not always an easy job and there are plenty of challenges, it takes genuine passion to thrive to make someone's life better.
If like Fiona you are the kind of empathic person who enjoys caring for those who need it, then
find out more about a career with Caremark on our jobs page
.