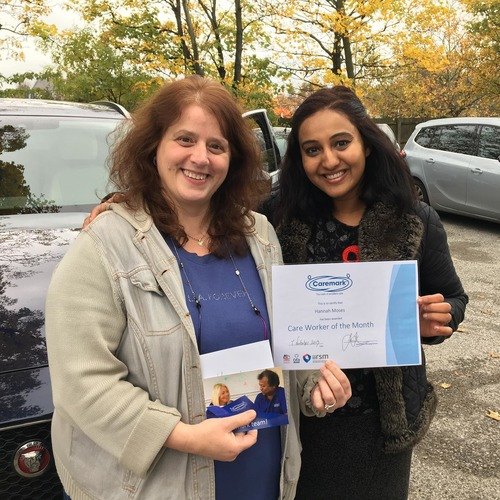 08 Nov 2019
Hannah Moses (Havering)
Congratulations to Hannah Moses from Caremark (Havering) who is Caremark's Care Worker of the Month for October.
Although she is new to care, Hannah is a natural and has made a brilliant start in her new job. Currently supporting an elderly man with whom she was carefully matched by the Caremark (Havering) team because of their similar childhood homes and experiences, Hannah has shown outstanding professionalism and empathy.
Hannah rigorously maintains Caremark's high-quality standards in her working practices, communicating effectively with her team and her client.
She has built a strong and trusting working relationship with her client, making him feel at ease and comfortable in having an open conversation with her.
When her client shared with her memories of his childhood home, she found a book for him about the history of that area. The client was ecstatic to see the book and has spent a lot of time reading it, happily reminiscing about his early life.
On another occasion, when the client mentioned he used to enjoy bagels from his childhood area, Hannah made a special trip to that area during her own time to buy some bagels for him. The client was absolutely delighted and extremely grateful. When asked why she did this, Hannah simply said she knew it would make the client happy.
The client commented that 'Hannah is great, she's doing a really good job, I'm very happy'.
Hannah's caring heart shines through her work and she embodies everything a great care worker should be.
Well done Hannah – a deserving winner for October!