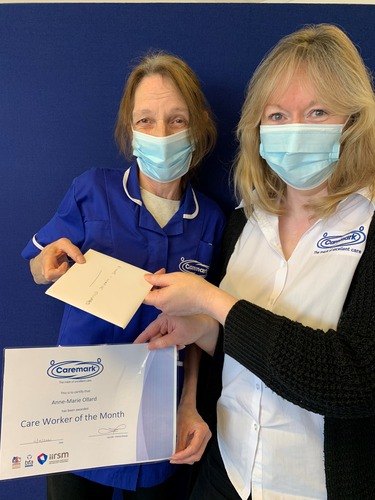 18 May 2021
Caremark National Carer Award for April
Anne-Marie Ollard, from Caremark (North Hertfordshire & Stevenage)
Nominated by Care Manager Lucy Turner, we are delighted to announce that Anne-Marie is the winner for the month of April.
Lucy explains: "Anne-Marie has always been a very hardworking reliable carer since starting with Caremark (North Hertfordshire & Stevenage). She has always had a very upbeat attitude towards her work and says that going to see the clients has always made her day a lot brighter. Whenever Anne-Marie can, she is always on the phone offering more hours to ensure she is helping where she can."
She goes onto say: "Anne-Marie has always been very good at completing her log notes and is always very willing to pick up extra shifts and help wherever she can. She has always worked very hard to ensure she builds up good relationships with her clients and makes sure the care she provides is person centred.
Whenever Anne-Marie has a question regarding the care she provides, she has always contacted the office staff to ensure she is taking the correct steps to deliver the highest quailty care possible. Together with the Care & Support Workers Anne-Marie works with, they keep up excellent communication with each other to ensure everything runs smoothly and handed over information requitred from the previous shift."
Lucy goes on to say how she is a team player: "Anne-Marie works with a small team to support a service user that needs 24 hour care, together with the team, Anne-Marie concluded how to work the rota without affecting other colleagues and the client, to make sure all care needs are covered. Anne-Marie and the team have worked together tirelessly to ensure everything is perfect for this client, making sure she is happy with the carers going in, as well as going above and beyond her job role to ensure the client is happy with everything on a day-to-day basis."
Many Clients have mentioned that she is a bright and bubbly personality, who they look forward to seeing.
For details of careers in care at Caremark, like Anne-Marie, then please
click here
to find vacancies in your area.