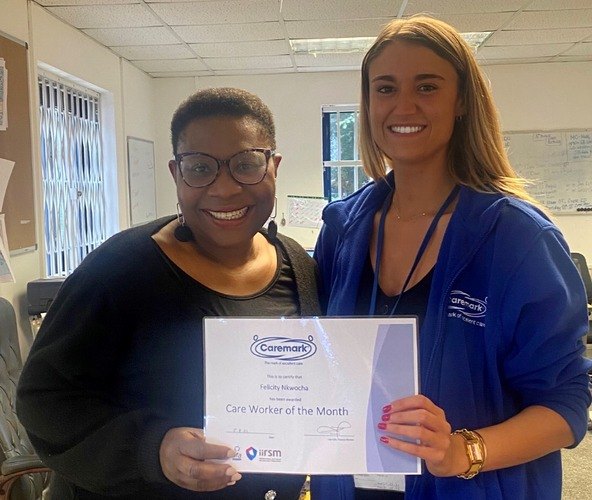 02 Sep 2021
Caremark in-home Care & Support Worker of the Month for July.
The recipient of the Award for July is Felicity Nkwocha from Caremark (Hatfield & Welwyn), nominated by Care Manager Robyn Sparks who says: "Felicity is an exceptional asset to our team."
Robyn had this to say on the award: "We are absolutely thrilled for Felicity, as this is a Care & Support Worker who goes above and beyond in her job role daily and just one such example of this was during the height of the pandemic when a client became seriously ill, so much so, an ambulance was called. When the ambulance arrived, she learnt that family members were not allowed to accompany the client due to the Government rules around Covid-19. As a frontline carer, Felicity was allowed to travel with the client, so that's exactly what she did, without hesitation she boarded the ambulance safe in the knowledge that as a carer, she could accompany the service user into the Accident & Emergency department of the local hospital."
Robyn then goes on to explain further how this truly caring person went the extra mile: "Felicity did this without any thought for herself or the end of her shift and stayed with the service user throughout the night, as the client was extremely anxious." This instance is nothing out of the ordinary, as Robyn expands on the reasons she nominated Felicity, she goes onto say: "She continuously goes above and beyond in her role and always puts her service users first, she is extremely hard working and reliable. She picks up extra shifts to help out where she can and communicates to the office with any concerns she has with any of her service users."
Robyn then moves onto tell us how Felicity also feeds back all compliments made by families and clients and receives her own: "Felicity works closely with one service user providing night sits 3/4 times per week. The family are exceptionally happy with the care provided by Felicity and call us on a regular basis with compliments."
In closing Robyn tells us about Felicity's effective communication: "She can work with all members of the care team effectively, working and communicating well with service users and their families to ensure the highest level of care is provided. Felicity is an exceptional asset to our team and we would be lost without her."
If you would like to find out more about a truly rewarding career with Caremark, like Felicity, please
click here
to find out more about jobs in your area.