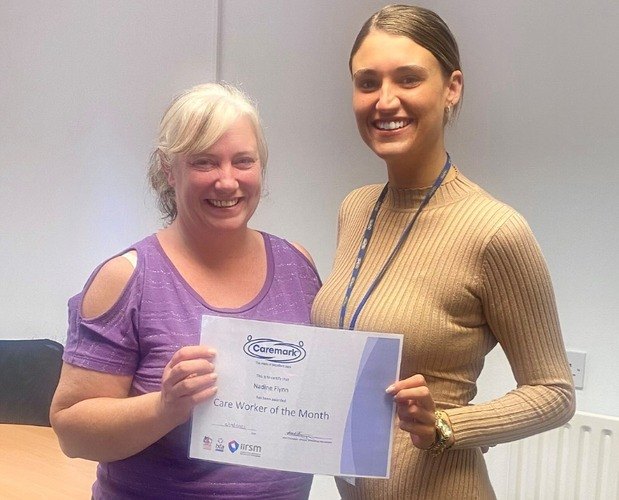 30 Sep 2021
Caremark Carer of the Month for August.
This month's Care & Support Worker accolade goes to Nadine Flynn, from Caremark (Welwyn & Hatfield)
This month's recipient of this accolade, who will be entering the Caremark 'Hall of Fame' was chosen from a whole host of nominations of the usual highest quality of carers from across the national network of Caremark offices, delivering the highest quality of care across the country.
Nominator, Care Manager Robyn Sparks had this to say about why she put her forward for this recognition: "Nadine is our most reliable member of staff, she will always go above and beyond for her clients, doing extra shopping and ensuring the best care is always received by our service users."
Robyn goes onto say: "Nadine has never called in sick in the year and a half working for us, always informs the office immediately with any client concerns, she knows her clients extremely well and is able to pick up on any potential issues very quickly and alleviate them, quickly and effectively."
Expanding on reasons as to what makes Nadine such a model Carer, Robyn says: "Nadine works with every client we have across Welwyn & Hatfield area and every member of the Care Team, she is incredibly flexible, working across all areas of care delivery, the feedback is always positive from the service users, these come through regularly, with clients saying things like 'I would be lost without her' and we have never received any negative feedback whatsoever.
She has a fantastic sense of humour and has clients and colleagues alike laughing on her calls, bringing joy to their day, which delivering the highest quality care."
If you would like to find out more about a truly rewarding career with Caremark, like Nadine, please
click here
to find out more about jobs in your area.