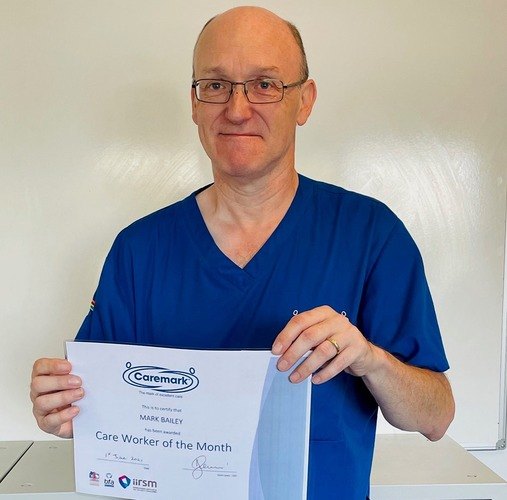 09 Jun 2021
Caremark Care & Support Worker of the month for May.
When Mark Bailey was diagnosed with Parkinson's in May 2019, Caremark (Thanet) not only backed him to provide training to other staff but has now incorporated his course into their intense training programme.
.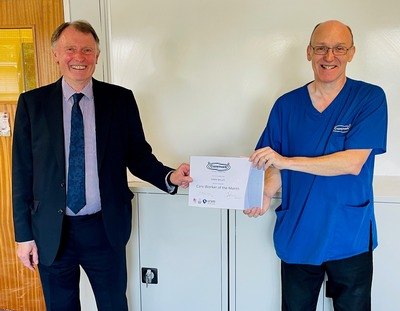 Mark uses his Parkinson's as his 'real-life insight' into training for staff and is named CSW of the Month for May.

Mark, 56, Said: "After I was diagnosed with Parkinson's, one of the things I noticed was the lack of understanding of the symptoms and medication. It helps that the training given is coming from someone who has Parkinson's and understands it.

"Not many carers knew about this but when you go and see someone who is diagnosed with Parkinson's, it is so important you give them their tablet first and do the tasks after as it can prevent muscles seizing up. It's amazing how many people did not know about that side effect because not many people know about Parkinson's."

He has received positive feedback and the care team say they have found the training to be very beneficial, he expanded on this by saying: "People have said it was one of the best training sessions they had been given because it was done by someone who has Parkinson's and knows how it affects the care they give."

In addition to the staff training, Mark was utilised to call on a client also diagnosed with Parkinson's: "When I first met her, she couldn't hold a knife and fork. I gave her some simple exercises to do and now she is eating with her knife and fork and she can even weight-bear and stand up on her own now and is teaching herself to walk again."

How many people have Parkinson's and what causes it?

The Parkinson's UK website states there are approximately 145,000 people living with the progressive neurological condition, which worsens over time.

The brain cells that produce dopamine stop working and shut down, this is the cause of the tremors observed with Parkinson's, because the brain cannot produce enough dopamine to properly control movement.

Mark noticed one of these tremors in his hand back in 2017 and less frequently in his left leg. His Doctor's advice at the time was that this was an old sports injury and to keep an eye on it. When the tremors started happening more, Mark returned to the Doctor and at this point he was sent to a Neurologist, who requested scans for him.

Theses scans confirmed Parkinson's and after informing his friends and family, some went online to find out more. He said he was shocked by the information out there: "There is a lot of misinformation out there and it can take them to breaking point. If family and friends don't understand what Parkinson's is and what it can do then there is a lot of other people out there who are in the same boat." Further to this, he directed them to the Parkinson's UK website for more accurate information.

Mark then went on to talk about advising work: "I had been working with the company for about a year before I got diagnosed and although they are a good company to work for, I wasn't entirely sure how they would react." He went onto say: "I went in and spoke to my line manager and she was absolutely brilliant. I have now been told by my doctor not to work more than three days and to have some respite in-between as it attacks my body too much. I spoke to Caremark about that. They have been very supportive."

"I can't fault Caremark in terms of the way they have looked after me."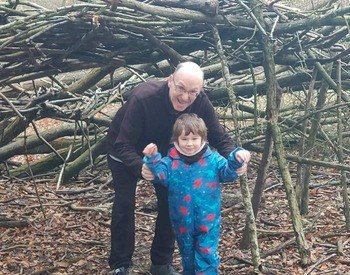 Director of Business Development & Marketing, at Caremark (Thanet, Dover and Canterbury) Jemma Nimmo had this to say: "Mark's dedication, commitment and reliability to his role as a carer is inspiring. With his positive attitude he has set out to help others including our customers, our carers and the wider community, with his energy and drive Mark has excelled in this area. We are truly proud to have Mark on our team. Well done Mark."

The head office team are very pleased to confirm Mark as Care & Support Worker of the month for May 2021 and he is pictured here with his certificate and he also receieved £50 worth of Love to shop vouchers, which he may choose to spoil his Grandson (Pictured).
If you or anyone you know would like to find out more about a truly rewarding career with Caremark, then please
click here
for up to date vacancies in your area.