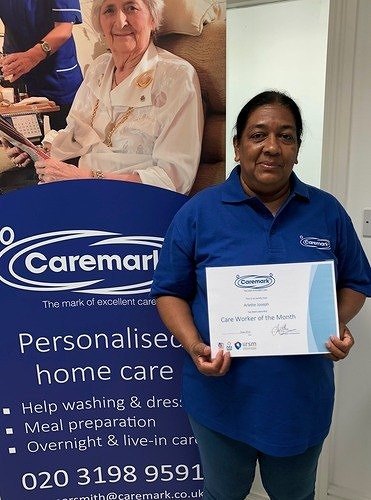 29 Jun 2018
Arlette Joseph from Caremark (Hammersmith & Fulham)
Arlette has been part of the care team from the outset and began looking after (Hammersmith & Fulham)'s very first client.
In the early days, Arlette only had a daily 1 hour call which she religiously fulfilled every day for 7 days. Now, the business has grown and her client base with it, but she still visits that same client she started out with.
Arlette has proved to be a committed, reliable and passionate member of their care team. A real trouper and someone who can be relied upon. She is a great team player and works happily in two handed calls, taking the lead when necessary.
She is supportive of her colleagues and all her clients love her! Despite her own busy schedule which means she has to juggle a lot of things, she always prioritises her work and is only too happy to help when needed.
Her consistent and dedicated approach has been of enormous benefit to one of her clients and this has had a positive impact on their wellbeing. This particular individual had a bad experience with a previous provider and was often let down with calls which were never the right time and were inconsistent.
As he is unable to get out of bed and access the bathroom on his own, this became very difficult for him. However, with Arlette's good care he is now able to do things at a time he likes which works much better for him and he knows she will always be there, on time, every time.
Her flexible approach has meant that he can have his last call from her at 10.30pm in the evening which was impossible from other care providers. This allows him more time in the evening to do what he wants and enables him to go to bed at a time which works for him.
Overall, Arlette shows real dedication to her job and her clients and a real passion for working to best practice principles.
Congratulations and well done!