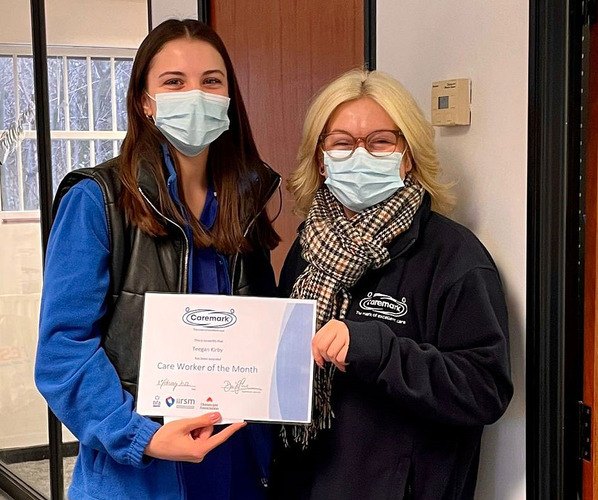 22 Feb 2022
A fantastic, assertive care worker respected by her colleagues
Teegan Kirby from Caremark (Hatfield & Welwyn) has been awarded Care & Support Worker of the month for going out of her way to ensure her clients' needs are met.
Teegan is described as a confident young woman who is able to deal with the most challenging of clients. She communicates with all members of the team and can confidently come to management with any concerns she may have and even has fantastic feedback on her colleagues.
Nominator Robyn Sparks said: "Teegan is able to take the lead with newer members of the team, including teaching and supporting them during their initial weeks on the job. Where we have had less confident carers, Teegan has provided support and patience in helping them to grow and develop and many now go to her for help and advice.
"Loved by both staff and clients alike, we only ever receive positive reports full of praise for Teegan's work. Teegan goes above and beyond for all service users and no task is ever too big, she often goes out of her way grabbing small shopping items after shifts and ensures that all clients are happy and smiling.
"Teegan has been working for Caremark for nearly two years and during that time we have seen her confidence grow to new levels. Initially she struggled to believe in her own abilities but during her time with Caremark (Hatfield & Welwyn) she has expanded her knowledge and experience and is a fantastic, assertive care worker respected by her colleagues."
If a job in care sounds appealing, there are a number of roles across the network that may be right for you.
Visit our jobs page
to find out more about a career with Caremark.