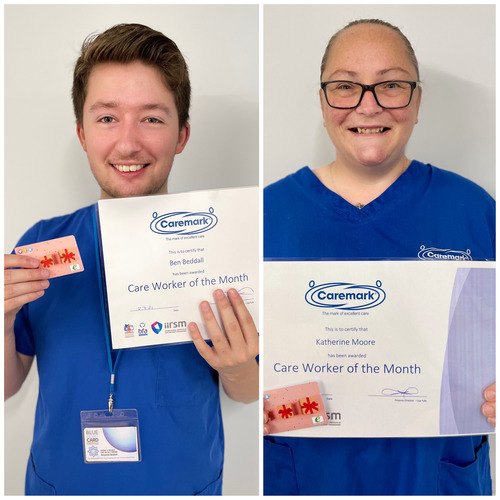 21 Jul 2021
A Caremark first, 2 Carers receive Carer of the Month Award.
Caremark (Thanet) in-home Care & Support Workers recieve their awards for June.
Ben Beddall, with assistance from Katherine Moore saved a client's life, in Ben's own words, this is what happened: "We provided care as usual and gave the client his cup of tea and just as his wife went to the kitchen, he fell unconscious and didn't come to with all attempts made.
I sensed the urgency of the situation and I asked Kate to call 999 while I proceeded to flatten his bed and check for a CPR tag to deflate the bed so if needed, I could provide CPR. With no CPR tag evident, I checked for breathing by looking down his chest with my ear close to his mouth so I could listen for breath as well."
His breathing was unstable at first then within a couple seconds stopped. That was when I first started CPR. Kate had communicated amazingly well all worries to the 999 call operators who could give advice and guidance on how to help the gentleman."
The franchisee Garry Costain recognised this amazing lifesaving activity and awarded Ben with an outstanding contribution award.
From Ben's account you already know that he was not alone in his endeavours to save this person's life, but had another Care & Support Worker with him, Kate, who gives us her perspective on the events that unfolded this day: "The call started off as normal, with the client in good spirits, we gave him a full wash then his medication. I sat down to write the notes and Ben was sat next him encouraging him to drink his tea. The next thing we know is he dropped his mug and when we looked over he wasn't breathing.
Ben shouted to call 999 while he got the client flat on the bed and started CPR. While relaying the information, the operator told us to get the client on the floor which we did with the slide sheets. He stopped breathing again and again Ben's CPR got him breathing, it was at this point the ambulance arrived. Without a shadow of a doubt without Ben's quick thinking this gentleman would have passed away that day."
Garry obviously recognised Kate's part in saving this client's life and also presented her with an 'outstanding contribution award.'
Further to presenting these awards to these quick-thinking carers, Garry had this to say: "Performing CPR in training is one thing: doing it for real is something else entirely. Ben should be very proud of what he has done. No matter what training you have, you never know how you will react when you are faced with a real-life emergency. Ben acted magnificently. He remained calm under pressure and did the things that he learned in training. We are very proud of Ben and he can justly feel very proud of how he conducted himself."
These quick-thinking Carers were also both awarded 'Carer of the month' for June by Caremark Head Office, which means they both not only received vouchers and a certificate but are now both finalists for the 'Carer of the year' award, which will be announced at next year's annual conference 2022 in January.
If you too would like to find out more about a rewarding career with Caremark, then please
click here.