The Long Hot Summer in the Caremark Allotment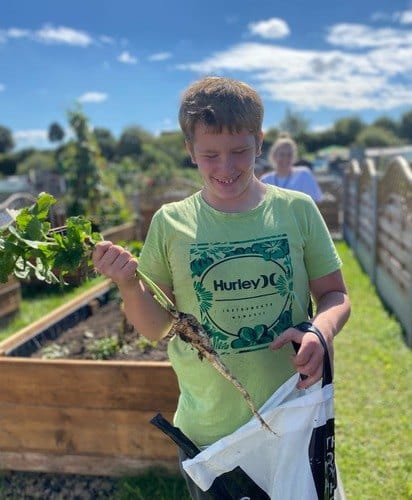 What a fantastic summer we've had this year, day after day of warm and beautiful blue skies.

We've been really busy in lots of way's- supporting our customers to live their best lives- we've been off to the seaside with our customers, into local parks, trips to shows, restaurants, shopping trips and we're pleased to say a good number of our customers have come along to help us in our allotment.
We've seen our first crop of carrots, radishes, cucumbers, parsnips, potatoes and green beans picked and harvested. Our team have even made some delicious carrot and parsnip soup along with some other tasty meals – which has been fantastically well received by our staff and customers alike. As we enter into Autumn we are still busy in our Allotment planting crops for the winter months- we want as many of our customers to come along and help us prepare the ground and look after the crops to enjoy another bumper harvest!
We've so many plans for the Autumn and Winter months- here's a just few to look out for; we have our annual Support Worker Awards in November, our annual Spooktacular Halloween competition, Children in Need Day, Bonfire Treats, Christmas Jumper Days and annual design a Christmas Card competition. Not to mention our staff recognition Halo Awards each quarter together with lots of Wellbeing and Wellness sessions planned in with our team.
Please keep a look out for our plans as we announce them and please, please, please get involved- we love our customer and staff involvement!