The FIRST UK Care Provider to Launch Staff App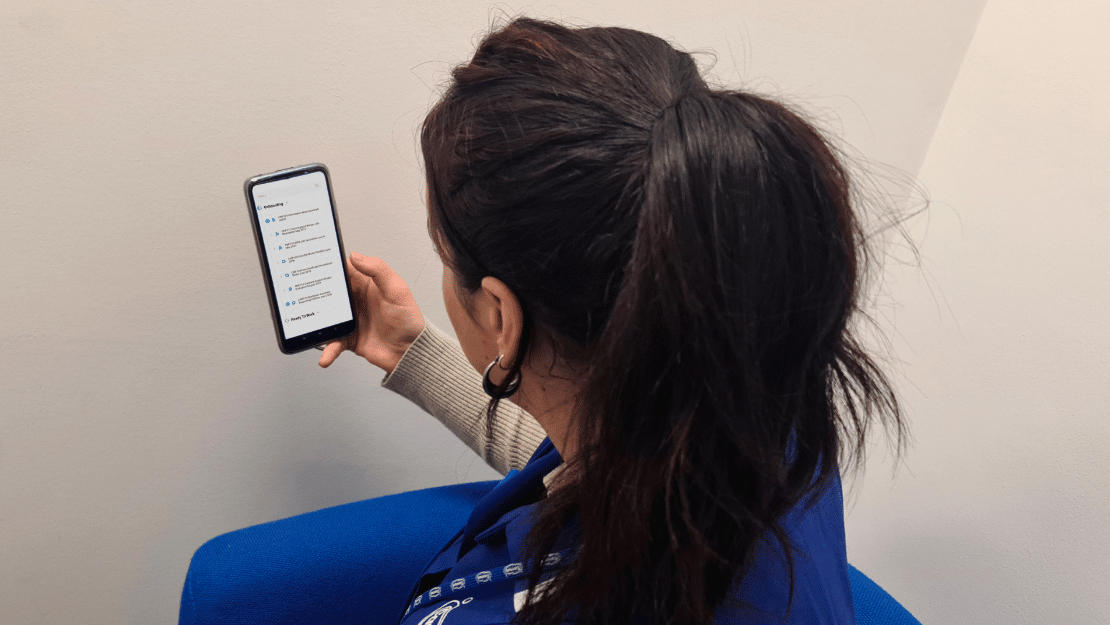 We have revolutionised the way we train, communicate and engage with our entire workforce through the introduction of a technologically advanced staff app called Connecteam.
With a workforce of over 7,000 and 115 franchise offices, we wanted an easy-to-use, informative, and effective, modern 'mobile intranet' for ALL staff – whether they are office based, and most importantly, if they are not.  Connecteam is exactly that and more. 
Our Care Assistants are at the very heart of the business and David Glover, Caremark's Joint CEO, places great importance on engagement, knowledge, training, and support. He was keen to invest in a tool that would help support all Caremark care teams across the country and one that enabled two-way communication so that those people delivering the service, could provide direct feedback to the Franchise Support Centre and Franchise Owners.   
Through extensive research, our IT team selected Connecteam as our partner to take this technological advancement into the internal support offering.  The teams have been working closely together since November 2021 to take advantage of Connecteam's customisation options and to adapt the app to suit our specific needs.  After a successful trial with three franchise offices in May 2022, the App is now being rolled out across the entire network with currently, approximately 25% of the network already users.
Connecteam is accessed via staff smartphones, and with the App, staff members can now, for the first time complete the latest compulsory e-learning, access the company's policies and procedures, openly and freely communicate with their peers, their office team and the Franchise Support Centre as well as refer friends to work with Caremark.
Commenting on this innovative move by Caremark, Connecteam CEO Amir Nehemia said: "The home care industry employs hundreds of thousands of people at multiple locations, who are not tied to a desk or a computer, and often do not have corporate email.
"Connecteam is a staff app designed to improve the experience of those professionals who work tirelessly to assist people at their homes."
Nehemia added: "From the get go, we saw that Caremark is doing things differently, putting its care assistants first. By delivering real-time, trackable, digital communication and training across the entire network using Connecteam, the company can provide a better staff experience.
"I'm confident that Connecteam will successfully engage Caremark's franchise owners, managers and care staff in an innovative way that wasn't possible before – resulting in higher efficiency, productivity and retention."
David Glover, Caremark Joint CEO said: "Our Care Assistants are the lifeblood of our business and I wanted to ensure they receive the exact support they need, be that training, access to documents or a place to chat with peers, as well as feeling valued, engaged and part of one big national team. 
Being able to listen to such a strong workforce is paramount to being in touch with staff and customers. Our care teams are the ones that meet with our customers on a daily basis, and I wanted to provide them with a platform to give feedback and to share ideas directly with me and our franchise owners. In turn, this will enable us to adapt where relevant, in order to provide our care teams with the best possible working environment.
The investment in Connecteam means we are in an enviable position to be able to achieve all of this whilst also aiding in recruitment and retention.
I am delighted with the impression this technological introduction has made to us all at Caremark."
Connecteam is designed to work on all smartphones and offers a myriad of exciting features.
Some of the benefits of the Staff App are:
The entire franchise network can use the App for accessing all the company policies, procedures, and operations manual.
Care staff can use the App to undertake mandatory eLearning in a user-friendly way.
Franchise owners benefit from portable training licences which is a cost-saving.
Franchise owners can use it within their own company to run polls, send notes of gratitude, deliver important business messages and run 'refer a friend' schemes.
The Franchise Support Centre can communicate with and receive feedback from all Caremark staff.
Each Care Assistant can provide suggestions and feedback to their office or to the Franchise Support Centre.
Offices enjoy a secure work chat tool which supersedes the previously used WhatsApp.
Caremark's values of 'caring for all people: customers, employees, franchise owners and care staff' means that through Connecteam everyone from senior management through to care assistants are kept up to date with company news, have access to all relevant company documents and can speak to each other and share ideas, with everyone having an impact on the overall growth and flourishing of the company.
It is expected that all Caremark offices will be utilising the new app in its entirety over the coming few months.