Thanks for your Green Fingers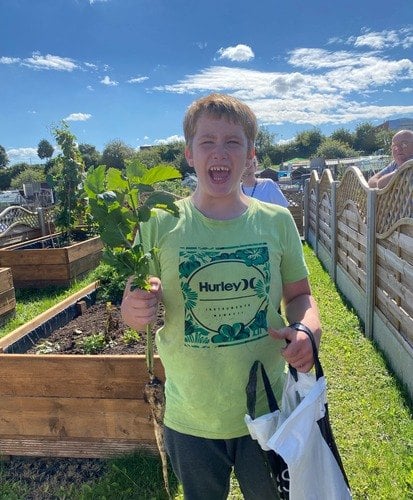 We've had a bumper start to our Allotment's first year and we've been thrilled to see a number of our customers join in to help us plant, grow, care for and now harvest our produce.
We'd like to thank all our customers and our staff too who've helped us grow some marvellous carrots, parsnips, onions, radishes along with green and yellow beans! Not a bad start to our first proper harvest.
Reece came along and helped us pull and pick the produce and had a fantastic time with his Support Worker, Ahmed who said ''it's just fantastic up there (at the Allotment), it's such a nice and calm environment- it's beautiful and really positive. Reece had a great time helping- it's great fun.''
We distributed the produce around our team- Kirsty our Case Leader used hers to make the team some fresh carrot and parsnip soup- which went down a store with her colleagues.
We're in the process of planting some winter vegetables- onions, leeks, garlic and then thinking ahead for springtime when we'll be planting our potatoes, cabbages, parsnips, carrots and broccoli.
If anyone fancy's a day out at our allotment please speak to your Support Workers, Case Leader's or just call our office team and we'll plan that in, the more, the merrier!!!