News Flash: Real life Super Heroes work at Caremark Solihull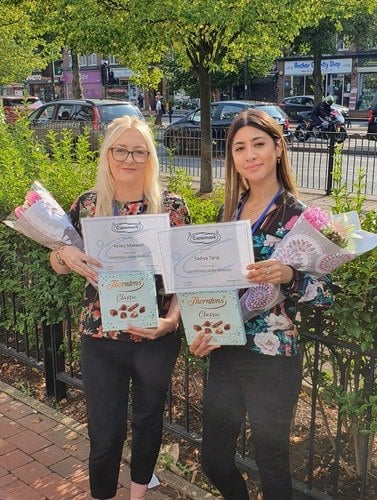 We have always known our Field Care Supervisor – Kelley Maxwell and Care Coordinator – Sadiya Tariq have all the qualities of being real life Super Heroes for what they do on a daily basis but today even I was blown away by their natural instinct to put other people first.
Picture this, it's a hot summers afternoon on Shirley High Street, you've had a very busy morning in the office, you go out to soak in some sunshine and walk over to the local shops to get a well deserved cold can of Rubicon. You see a crowd of about 5 people around an elderly lady sitting on the floor looking a little distressed, what would you do……………….?
Well, without a second thought Kelley and Sadiya went to see how they could help the lady. On approaching, they noticed nobody really wanted to help her and fast understood that the lady had had an accident and her trousers were all wet and looked embarrassed. What they did next was truly amazing, while Sadiya comforted the lady and reassured her everything will be ok and they are here to help, Kelley went into the shop next door and bought the lady a pair of trousers. To maintain the ladies dignity they invited her back to our office to get cleaned and change into her new trousers. When they came into the office and guided the lady to the toilet, I asked what happened, in their humble way told me like it was an everyday normal act to help a stranger like this. Feeling happier and comfortable the lady left to continue shopping, she never stopped thanking them both as I think even she was blown away by their beautiful gesture.
Sadiya and Kelley you are our Coordinator and Supervisor of the Moment for your Super Hero caring nature. Tell the World Caremark Solihull have the best Care Team in the Universe. #Superheroine #Carers #Strongertogether #Sadiya&Kelley