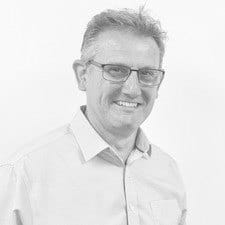 Matt Hanger
Managing Director
Having spent 26 years working at various levels within the IT sector, Matt decided to give it up and pursue a new career where he was in control of making a difference in people's lives.
Over the last 13 years he have been running two businesses, actively promoting a positive culture within the workplace, encouraging staff to take control of their role, cultivating a sense of pride in their achievements. Matt is very proud of the low rates of staff turnover he has achieved.
He is now embarking on an new venture with Caremark where he is excited to be able to make a real difference to people's lives for both customers and his wonderful care staff.
If you are looking for care please call Caremark Swindon today and their experienced staff can talk you through the options and packages they can provide to assist you.
Caremark Swindon are always recruiting and if you are considering a move to Caremark, there are roles for either experienced carers or those considering a new career in care. They are always happy to talk through your options with you. Just give them a call
Karen Spiers FRSPH
Care Manager
Karen has worked in the Health and Social care sector for 15+ years.
She began her journey as a home carer and worked her way up through the years by gaining training and lots of experience.
I began by studying a level 2 in health and social care, and worked up to a level 4, then she decided she wanted to learn more and studied a level 7 in leadership and management, level 7 in communication skills, level 5 in life coaching.
She then joined the public health authority and now is a fellowship member, this gives her the letters after her name that she is very proud of, continuous leaning and development helps her to grow as a person and share that knowledge with others.
She is passionate about Health and Social care, it is important to her that all customers are treated to the highest standard and all care needs met, promoting independence, going above and beyond, also that her carers are valued and respected. Karen thrives on positivity and upholds a good positive culture for all to work together in as one big happy team.
She enjoys family time, making new memories, motor racing at Standlake area with her family and friends, dog walks and being out in nature.
"My message here is to anyone who thinks they would like to one day be as lucky as I am to have the opportunities that I do, you can, it is totally possible, hard work, positive attitude and determination, never give up on a dream."
Elaine Kearns
Field Care Supervisor
Elaine has worked in health and social care sector for many years starting as a Care Assistant with no experience. Elaine is now studying for her level 5 in health and social care management diploma.
"When I started as a care assistant out in the community I was unsure if this was the right career path for me because I had never done anything like this before and didn't know if I had the confidence to succeed, but after my training was complete and I was out actually doing the job it became pretty clear to me that this was what I was meant to do with my life."
For Elaine the enjoyment of meeting new people who needed some help and support with every day tasks gave her a great feeling to know that she'd possibly make their day a little brighter.
Elaine left the care sector for 9 years after having her daughter but her head and heart was always meant for care so returned in 2015 and haven't regretted that decision.
"Meeting new care staff and watching them grow into amazing carers is just as rewarding for me as actually being out in the community doing the job myself, I fully support all new care staff and like them to know I'm only a phone call away if they need me.
I always encourage people that are trying something new to go for it because if I had let my lack of experience and confidence get the better of me then I wouldn't be doing a job that I love."
Reach out to us today – the Caremark Swindon team are ready to answer your questions.