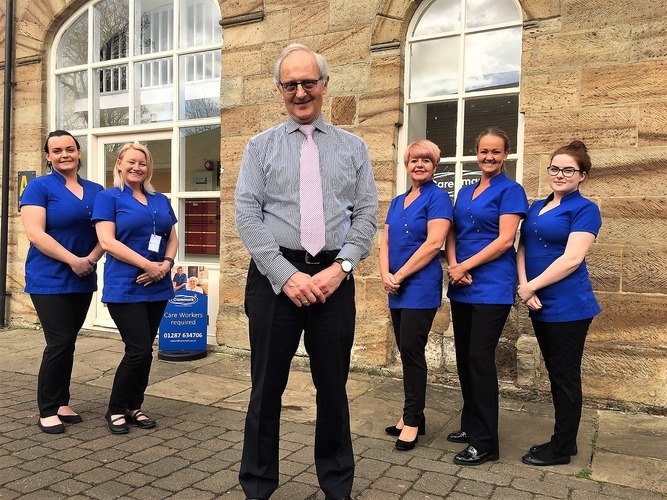 15 May 2017
New office aids expansion
Caremark (Redcar and Cleveland) has more than doubled its office space as demand for its services continues to increase.
Staff have moved just literally a few yards away from their old offices to occupy much larger premises at The Old Coach House, Bow Street Business Centre, Guisborough.
But the move was necessary due to the further expansion of the company, which was set up in 2007 to provide home-based care to people across Redcar & Cleveland and parts of North Yorkshire.
Caremark (Redcar and Cleveland) now employs over 200 staff and has 400 customers in towns such as Redcar, Saltburn and Guisborough, as well as the rural areas of Redcar & Cleveland.
The care provided can range from helping people to cook a meal or take a bath, through to assisting those with more complex care needs, such a people who have dementia, physical disabilities or mental health problems.
Charles Folkes, Managing Director of Caremark (Redcar and Cleveland), said: "We are delighted to have moved into new offices as it demonstrates our growth as a company.
"We had outgrown our old premises and we needed more space for the head office team who help to plan, monitor and supervise the care we provide across Redcar & Cleveland."
It has also meant that we have been able to move our training centre from Redcar to the new office, so everything is now under one roof."
Caremark (Redcar and Cleveland) is an approved provider of care and support for Redcar and Cleveland Borough Council and North Yorkshire County Council.
The company provides 900 hours of care to publicly and privately-funded customers each week.
Mr Folkes added: "It is pleasing, in our 10th year, that we have been able to continue to expand. We pride ourselves on having well-trained, motivated staff who are committed to providing person-centred care to people in their own homes; people who without this care may no longer be able to remain in their home."