Lessons learned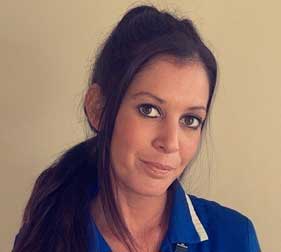 Lessons learned at her mother's knee helped prepare Amy Thompson for a career in home care support with Caremark Leeds.
Amy remembers as a five-year-old helping mum at a residential care home she worked at.
It paved the way for Amy to join the caring ranks, helping a relative with special needs and also as a private care assistant for a man who had suffered crippling injuries in a car accident. Then, five years ago, Amy made the switch to become a home support care assistant with Caremark Leeds.
"Mum said she didn't think I would like home care but after just a few months I realised I really love it," said Amy.
"I'm out and about in the community, visiting different people. It's not just helping customers with their needs and mental wellbeing but also bringing peace of mind to their families."
Amy, 33, gained her Level 2 Health and Social Care qualification and moved up the ranks to become a Field Care Supervisor but decided her heart lay in helping people in their homes and so she returned to a home care support role.
"This is a career in which you can progress if that's what you want. There's an opportunity to gain qualifications for your career or your own education. I found I'm more of a hands-on person and being a supervisor just wasn't the same, I like to be out and about."
And it looks like Amy's 12-year-old daughter, Lily, may also follow in the family footsteps.
"Mum still cares for a private customer and Lily has been helping her out during school holidays so it wouldn't surprise me if she also becomes a care worker."