Caremark offices hiring a Mental Wellbeing Practitioner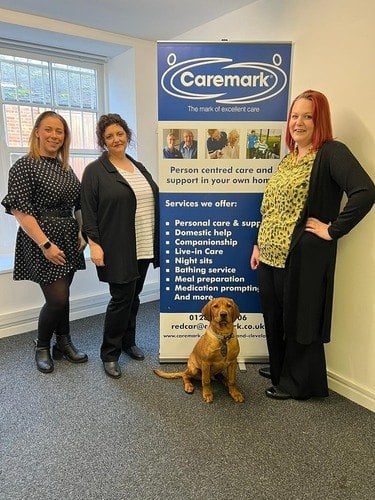 Some of our offices have started or are considering hiring a mental health practitioner for their local offices. We are really proud to see how franchise owners are committed to caring for their customers and their employees.

Caremark Redcar and Cleveland's mental health and well-being support service
Caremark Redcar and Cleveland's free staff mental health and wellbeing support service is going from strength to strength, with over 40 people now accessing support.
Launched in January this year, the support is provided by experienced life coach Ruth Smith and is open to anyone who works for Caremark.
The support is provided in various forms, from initial text messaging through to 1-1 support in Ruth's home and has helped a range of people, including those who have experienced deaths with their customers or family members, or simply those who are feeling a little down.
We have received great feedback from staff to the 'Mind Matters' initiative and two members of staff have kindly allowed us to use their comments, albeit we are withholding their names as the whole point is to give people a place where they can speak freely but with full confidentially (please note that no information is passed back from Ruth to Caremark).
Feedback from care assistants

One carer said:
"I had my confidence in my work knocked really hard over the last few years and I have had therapy on the NHS in the form of counselling which I felt was a waste of my time so when I was recommended to Ruth, I expected more of the same but tried to keep an open mind.
"It was a bit awkward at first, but she slowly helped me see how my upbringing had shaped me and why I have such a low opinion of myself which causes my feelings of needing to be punished."
"I never expected I could ever be "fixed" and I'm still the same person as in my first session. The difference is that I feel I can just about cope with each day, one at a time, which is a world beyond how I was.
I'm at a point now where the world isn't utterly terrifying and it's thanks to my time with Ruth. I can even say that the other carers have noticed I'm happier.
There is even a possibility I may go to the staff Christmas party – something I never wanted to do before. The fact that I'm even thinking about it is monumentally profound.
The world still causes me anxiety which will always be there, and I may find it becomes overwhelming again but knowing she is there to help me is a source of much reassurance. I am so grateful I have been able to see her, and I just want to say a massive thank you for introducing Ruth into my life."

Another carer said:

"When I first went to see Ruth, i didn't really know why I had gone but she made me feel comfortable and I opened up about things I have not spoken about or addressed in my life. Ruth gave me the tools to help and there was no judging, she was just there as a helping ear.
"I then got a serious health condition, but Ruth was amazing, and I cannot thank her enough for all the love and support she gave me. She gave me the tools that helped me get through that dreadful time and completely changed my mind set about life.
"I lost a close family member over 20 years ago and have never addressed things that happened. It has always been in the back of my head niggling away, but Ruth is helping me talk about it all and that's a massive achievement for me to do."

Another carer said:

"When you get passed around mental health service like you feel like number or just another person, another problem. It is not nice feeling, but when I met Ruth that wasn't the case at all.
"Ruth makes you feel like you actually do matter in the world and that you are someone that can be appreciated, and you are worth everything. Ruth has helped me a lot! She accepts you for you and I can't thank her enough."

Ruth's Vision
Ruth says she initially begins to talk to carers via text message as it is an unintrusive way of starting things, and this generally leads to 1-1 appointments being made at Ruth's home in Marske or at the Caremark office in Guisborough. She can also speak to people via Zoom or the telephone. As well as providing tools to improve mindset and confidence Ruth also offers many therapies including hypnotherapy.
There is also a closed Facebook group with 96 members and a WhatsApp group with 25 people, and Ruth has also recently started posting on TikTok as well.
Ruth says: "If there's one good thing that came out of the Pandemic, is that everyone is now more aware of their mental health and realise it is ok to be not ok.
"There's no stigma or shame in asking for help and I see people for just one session or in another case 25 sessions – it's entirely up to you and how you feel.
"It's lovely seeing the changes people go through and the best thing I can hear is 'I don't want to see you any longer' because that means I have done my job correctly.
"But we are approaching winter and that means darker nights/shorter days, along with the other issues people are facing at the moment, especially the ever-rising cost of living, so I would urge staff to reach out at any time if they feel things are getting on top of them."