Caremark Mid Sussex and Crawley Cupcake sale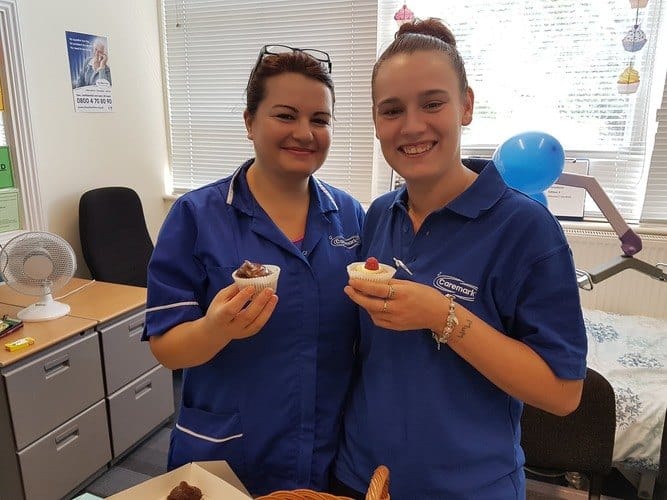 June 15th 2017 is the Alzheimer's society Cupcake Day which is being held in association with Woman & Home magazine the society are hoping that all over the country people will be baking, selling and most importantly buying cupcakes to help raise valuable funds for the organisation.
The campaign is being spearheaded by Paul Hollywood, the BBC's Great British Bake off Judge and also has the support of actresses Ruth Jones and Donna Air as well as comedian Jo Brand and chef Lorraine Pascal.
Caremark Mid Sussex and Crawley Cupcake sale
Dementia is the number one cause of death in England and Wales and there is no cure. Events like Cupcake Day will hopefully raise awareness about the issues facing those with Alzheimer's and their friends and family who care for them as well as raising funds.
Caremark Mid Sussex and Crawley will be holding a cupcake sale from our offices; Suite 3B, JYW House, Haywards Heath, RH16 1UA between 10am and 2pm.
If you would like to find out more about our Cupcake sale then contact Tania on 01444 455800
If you would like to take part in the campaign visit https://cupcakeday.alzheimers.org.uk/
Top 7 Fun Facts about Cupcakes:
1) The nations favourite flavour of cupcake (according to a recent survey carried out by the Alzheimer's society is chocolate. Chocolate cake, chocolate fillings and chocolate toppings)

2) The 2016 Cupcake day raised over £330,000 for the Alzheimer's Society

3) The worlds most expensive cupcake is Dubai's Golden Phoenic cupcake which is adorned with 23 carat edible gold sheets and had a price rage of around $1,010 in October 2014 and earned its place on the BBC's most expensive dishes list.
You can see the Cupcake being made below

4) Cupcakes were originally called 1234 cakes – because these were the proportions of butter, sugar, flour and eggs that were used (along with 1 cup of milk and one spoonful of soda. https://mobile-cuisine.com/did-you-know/cupcake-fun-facts/
5) Fodor's travel books includes Magnolia Bakery New York as a must see destination in their Top 25 'Sex & the City Locations https://www.fodors.com/news/nyc-top-25-icon-3018
6) The largest ever cupcake was made by Merengue Bakery, Detroit in October 2009. The cake measured 4ft tall and had a diameter of over 11ft
7) If you are concerned about calories there are lots of recipes for low fact recipes – these are some of our favourite https://www.beckycookslightly.com/2014/10/healthy-cupcake-recipes-under-100-calories.html
To find out more about Cupcake Day visit https://cupcakeday.alzheimers.org.uk/
If you are interested in a career in care or in the services that Caremark Mid Sussex &Crawley provide then do get in touch. https://www.caremark.co.uk/locations/mid-sussex-and-crawley/contact-us