Carer of the year awards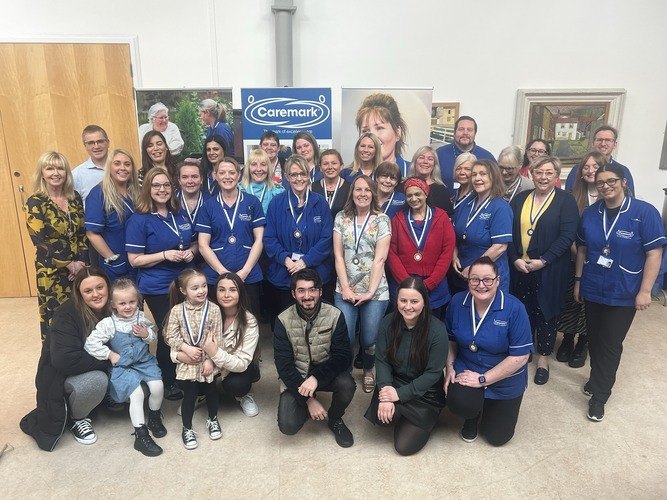 Dozens of carers who continued to work throughout the Covid-19 pandemic have had their efforts recognised by the people who receive this care; at our carer of the year awards.
A total of 49 carers working for Caremark Kirklees received awards based on comments supplied by 64 customers who responded to requests to nominate carers.
The awards were presented at a special ceremony (over two sessions) in Brooke's Mill, Huddersfield, where Caremark has its head office. Each member of staff had their nomination read out to them before receiving a certificate and commemorative medal. All the nominations were then used to determine the overall carer of the year, as well as runners-up and special awards. The carer of the year award went to Rabia Medlock, who received an amazing eight nominations.
One customer said: "I find Rabia extremely friendly and willing to go far beyond the scope of the job. She always asks if there is anything else she can do. She even sorted my cupboards out for me one day and always checks the fridge to make sure there is no out-of-date food. She is one in a million."
And another said: "Rabia will do anything for me. She's so helpful and kind. I feel bad asking her to do things like mopping the floor because I like to be independent, but she tells me not to worry. Nothing is too much trouble. I couldn't cope without her."
Rabia said: "When I got the award I was shaking like a leaf. It was very moving to hear the words customers had written in their nominations. I work with some wonderful people so to be recognised in this way is lovely.
"I just go out there and do my best. To go home at night put my head on the pillow and go to sleep knowing I have helped someone is very rewarding."
Caremark Kirklees Managing Director Duncan Smith said: "From the start of the pandemic in March 2020 and throughout the whole of 2021, our carers worked on the front line with their only concern being the health, safety and welfare of the people we support.
"Through their selfless efforts, we were able to play our part in reducing the burden on the NHS and making sure our customers could remain in their own homes.
"When we decided to hold our first-ever carer of the year awards, we wanted our customers to be fully involved and we were overwhelmed by the number of nominations they made.
"Whilst we based the awards on comments from the people we care for; there are many other absolutely amazing carers who didn't get nominated because not everyone, understandably, put pen to paper.
"Every single one of our carers was deserving of an award; they are all heroes in our eyes."