A positive experience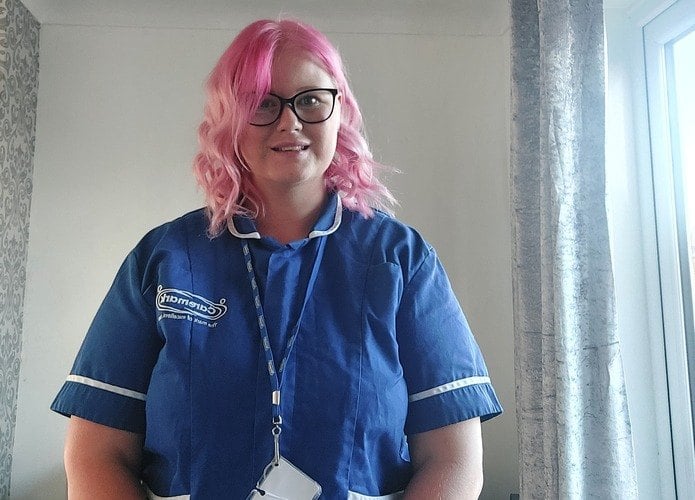 Laura Halton's positive experience working for Caremark Redcar and Cleveland has inspired her to return to education to study to become a Paramedic.
The 26-year-old recently returned to college and after her one-year course is complete she then intends to go to university for three years to study for a BSc (Hons) Degree in Paramedic Science.
Laura says this never would have happened had it not been for Caremark.
She explains: "It has been on my mind since I started working for Caremark and I now want to learn to help people even more than I can now.
"We are often the only people our customers see when we go into their homes, so we are like a ray of sunshine to them.
"Now I hope to be a ray of sunshine in green, rather than blue!"
Laura has worked in care since she was 18 and has experienced both residential care and home care, but it is the latter which she has enjoyed the most.
She says: "People are much happier when they are in their own home, with their own possessions and own space
"It an extremely rewarding job putting smiles on people's faces on a daily basis and I enjoy everything about my job."
"You see different people in so many different settings and it's an amazing feeling to be able to help people who need help whether it is to make them laugh or just for comfort."
Mum-of-two Laura says she enjoyed taking her children to the Caremark family fun day in the summer and she has also been taking advantage of the company's mental health and wellbeing support service.
She adds: "I chose to work for Caremark because you are made to feel part of their family from day one and they have your back in any situation.
"I can 100% recommend working for Caremark. It is a job you will not regret going into."