RIP John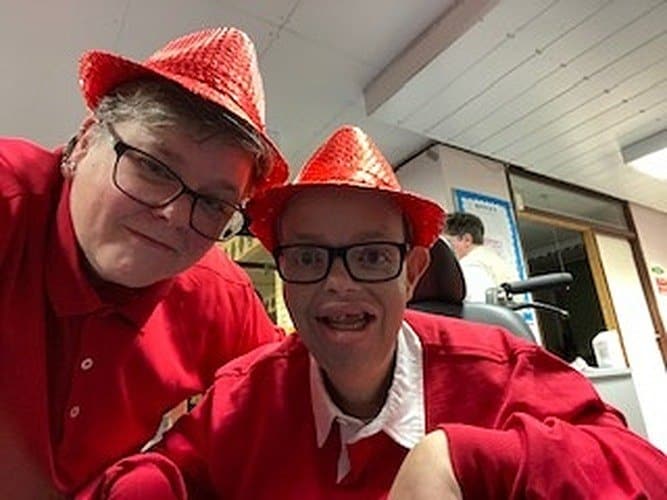 It is with immense sadness that Caremark Bromley can confirm the death of our customer, John Hill, a remarkable man who lived life to the full with a smile on his face.
John, 43, will be remembered by all who knew him as a warm, positive person who refused to let his disabilities prevent him from getting out and enjoying life.
In a moving tribute to John his carer, Nic Dalton, said: "I will never forget John, he was not only my customer, he was my best friend."
Nic added: "He was an amazing person who changed the way I looked at life. To see someone living on a daily basis in such pain yet manage to get up with a smile and enjoy life was inspiring. John made me realise what was important in life."
John was born with Coffin-Lowry syndrome, a rare genetic disorder which causes disability and learning difficulties. Average life expectancy for sufferers is 21.
His mum Valerie, late father John and siblings Jayne and Paul provided a loving family home for John who enjoyed train journies, ice skating and many other activities, often with his friends Ben and Diane, which were recorded on social media.
Nic, who helped provide care for John on a daily basis for eight years, got to know the family well. She said: "they are lovely, and Val was an excellent mum to John, there is no doubting that. He loved to be outdoors and even in lockdown she did all she could to make sure that happened."
John particularly enjoyed going into London and seeing the London Eye, which he called his "big wheel", and other attractions. He never let the fact he needed a wheelchair prevent his travels, which included a speedboat ride on the Thames and ferry crossing to the Isle of Wight. He also enjoyed meals at his favourite restaurant – the Toby Carvery.
Val Hill said: "John was a funny, happy, charismatic little man who loved going down to the Caremark offices and seeing everyone.
"Nic was absolutely amazing with him, we can't thank Caremark enough."
Everyone at Caremark Bromley will remember John with fondness and we send our deepest condolences to his family and friends at this sad time.