PPE Compliant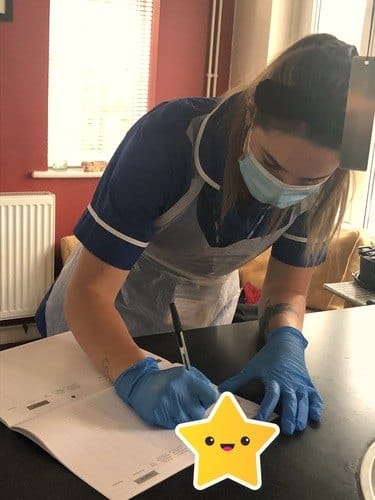 This week our new Field Care Supervisor, Katy, called in to introduce herself to one of our Clients in Kenilworth and happened to catch our very own Care and Support Worker, Melissa, supporting her Client.
After a brief introduction and catch-up with Melissa, the Field Care Supervisor snapped this pic to highlight how our Infection Control and our PPE standards have not faltered at all throughout this pandemic.
All of our Care and Support Workers are given ample amounts of aprons, gloves and face masks in order to protect themselves and their Clients.
We conduct regular spot checks out in the field to ensure all our Care & Support Workers are wearing the appropriate PPE. We are so very proud of all of our staff for their diligence and consciousness of others during this time.