Our Summer Sunflower Challenge of 2022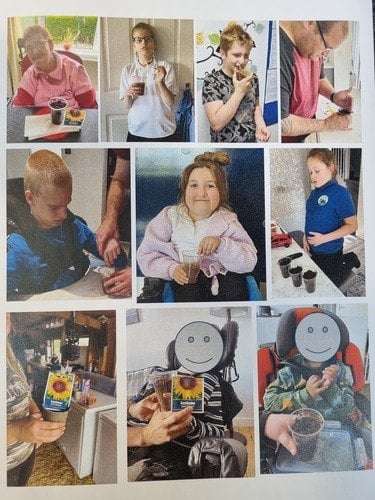 And we are off with a huge kick start to our Summer Sunflower Challenge! We have had so many entries from our customers, and we have some initial planting pictures to start us off.
We are really excited for this extra special competition, as we have also opened our allotment and the two go hand in hand in watching our customers be able to plant, water and grow their products.
One of our customer's, Dean, has put his pot on the windowsill in his kitchen where it gets the sun all day and is always really warm.
Emily is taking this very seriously and has even taken her pot to her Grandads Greenhouse to give it the best shot.
CH has hers at the field where she looks after her horses, she can keep this watered every single day with support from her carers.
Carol has hers on the windowsill in her living room where it's warm and will look beautiful when it's grown.
Lacie has planted not 1, not 2, but 3 sunflowers which herself and her brothers will look after.
JR and her family of 6 children each have their own sunflower. They are all really excited to complete with each other on whose will grow the biggest!
We also have had entries from brothers SA and TA, TG, HK, brother and sister AJ and MJ, and also HM but these customer's didnt want their picture taking, but we will still be keeping track of their sunflower progress.
If you still haven't planted yours yet, don't worry, there is still time.. but you will need to plant it as soon as you can, as some of our entries have already started to grow to around 1cm!
We would love it if you would update us with some progress pictures every couple of weeks, to let us know how you are getting on with your grow. Also, don't forget, the bigger it gets, you may have to transfer it to another pot to allow it to grow to its full potential. Don't forget to water it, and don't forget to keep it warm!